Tony Frieler and Cory Meagher hope that their new business venture, combining their expertise, will be convenient for customers. Frieler is a master plumber, and Meagher is a master electrician, and their new business - CT Mechanical - will offer electrical, plumbing, and heating construction and service.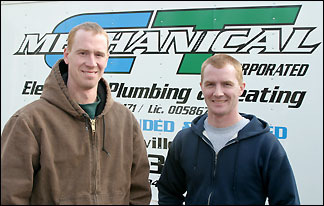 Meagher, a 1991 PAHS graduate, studied to be an electrician at vocational school and has worked nine years as an electrician. He was always interested on a job to know what the other contractors were doing and found the divided responsiblities at a work site frustrating.
Tony Frieler (left), a master plumber, and Cory Meagher (right), a master electrician, have formed CT Mechanical Inc. to offer electrical, plumbing, and heating construction and service.
Frieler, a 1993 PAHS grad, also was always interested to learn what other contractors at a job site were doing. Frieler originally attended vocational school for non-destructive metal testing and worked for General Electric until 1998, when he went back to vocational school for plumbing. He has worked as a plumber since then.
Meagher and Frieler, who are related (uncle and nephew respectively), each had thought about going on their own and had even talked about forming a business together. They got serious about their new business venture after Christmas when Gene Athmann of Spring Hill, a former employer of Frieler's, approached them about selling his company.
CT Mechanical will use his inventory as their initial supply and will rely on his customer base. They hope to build their reputation and customer base, they said. "Whatever we do," said Meagher, "we want to make our customers happy."
CT Mechanical will do new construction and service work for residential, lake, farm, and commercial properties. Right now, their crew will consist of Frieler and Meagher, though Athmann will be available to help with heating and larger projects.
Meagher lives in Paynesville Township with his wife, Tonya, and two sons (ages eight and four). When not working, he enjoys four-wheeling, spending time with his family, coaching wrestling, and following his sons' activities.
Frieler lives near Lake Henry with his wife, Kimberly, and their four-year-old son and nine-month-old daughter. He also enjoys four-wheeling. While he expects to work long hours at the new business, he is looking forward to working closer to home, having more flexible hours, and being able to spend more time with his family. He also enjoys being a relief milk driver on weekends, though he may not have as much time to do this now.
---
Contact the author at editor@paynesvillepress.com • Return to News Menu
Home | Marketplace | Community
---