The PAMS Sixth Grade Choir presented the mini-musical, "Get in the Game," on Monday, March 20, in the school auditorium.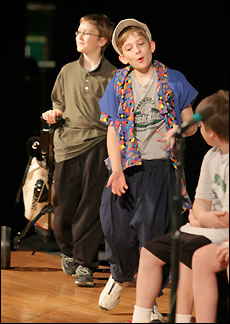 The half-hour mini-musical's topic was sports, with seven songs with sports themes: "Get in the Game," "Havin' a Ball," "Bowling Down Memory Lanes," "You Gotta Use Your Head," "At the Country Club with Tiger Woods," "Catchin' Some Air," and "I'm a Champion."
Matthew Anderson, along with his caddy Dan Christenson, tried to get a group of kids, including Austin Mackedanz, interested in golf.
The 28 choir members began practicing in mid-December and continued through March.
Cast of Characters
Get in the Game
Introducer: Chloe Flannigan
Announcer: Dominick Platow
Kids: Weston Brinkman, Tabitha Beck, Devon Savage, Austin Mackedanz, Jackie Wisted, Amanda Fenske, Jessica Solum, and Jessica Stransky
Joey: Reno Nichols
Country Caller: Chloe Flannigan
Baseball Team: Devon Savage, Tyler Cromwell, Zach Dingmann, Nick Hemmesch, Reno Nichols, and Matthew Anderson
Football Team: Austin Mackedanz, Megan Ludwig, Dominick Platow, Anthony Poepping, Jeremy Schultz, Jessica Solum, Reno Nichols, and Trey Stanger
Mr. Baxter: Josh Bungum
Judy: Tiffany Krupke
Bowlers: Gabrielle Johnson, Jessica Stransky, Anthony Poepping, Ben Youngs, and Devon Savage
Soccer Players: Austin Mackedanz, Anthony Poepping, Ben Youngs, and Tyler Cromwell
Snobby Golfer: Matthew Anderson
Golfers: Zach Dingmann, Ben Youngs, Tyler Cromwell, and Melaina Mrozek
Jeeves the Caddie: Dan Christenson
Skateboarders and Rollerbladers: Gabrielle Johnson, Ben Youngs, Jackie Wisted, Trey Stanger, and Zach Dingmann
Soloists: Amanda Fenske, Andrea Schlangen, Tiffany Krupke, Reno Nichols, Josh Bungum, Trey Stanger, Jessica Stransky, Dominick Platow, Breanna Hess, Nycole Braun, and Megan Ludwig
Speaking Solos: Andrea Schlangen, Breanna Hess, Tyler Cromwell, Nick Hemmesch, Austin Mackedanz, Jeremy Schultz, Reno Nichols, Josh Bungum, Amanda Fenske, Tiffany Krupke, Nycole Braun, Jessica Solum, and Zach Dingmann
Director: Cheryl Bungum
Sound: Sam Bungum
---
Contact the author at editor@paynesvillepress.com • Return to News Menu
Home | Marketplace | Community
---