Seniors Allyson Klenke and Becky Leyendecker were recently given Lions Service Awards for their community service and volunteer efforts.

Each year, the Paynesville Lions Club recognizes seniors at Paynesville Area High School for their volunteer work, both at school and in the community. Klenke and Leyendecker were selected for the month of March.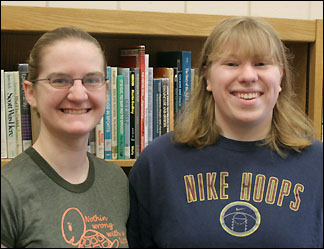 Both Klenke and Leyendecker said they were surprised to be selected for the award. "I really didn't think that I would be even nominated, much less win," said Leyendecker.
Seniors Becky Leyendecker and Allyson Klenke were recognized for their community service and volunteer efforts by the Paynesville Lions Club with its Youth Service Award for March.
"I felt honored to get the award," added Klenke. Both agreed that volunteering is an important activity. "I think it's important that we give back to the community by volunteering," said Klenke. "It is a great feeling to help other people out."
"Volunteering for even a small amount of time can make a big impact, for both those giving and getting the service," added Klenke. "I enjoy helping others," agreed Leyendecker. "It makes me feel better about myself knowing I may make a difference."
Klenke, the daughter of Denise and Jim Beckstrand, is a member of the National Honor Society at PAHS and sings in the choir, plays basketball and softball, and belongs to the letterwinner's club.
She is a volunteer driver for the local home-delivered meals program. "My favorite memory would have to be getting to know the people on the Meals on Wheels routes really well and hearing that they'll be looking forward to the next time that I'll be driving," she said.
She also volunteers for the Let's Go Fishing program in Paynesville and is a board member for the R.O.S.E. Center/Living at Home/Block Nurse Program.
She has also helped with softball and basketball camps for youth and helped to make meals for hurricane relief. At St. Louis Catholic Church, she helps with breakfasts and serves as volleyball manager.
Next year, she plans to attend St. Benedict's College in St. Joseph. Leyendecker, the daughter of Janelle and Mark Leyendecker, serves as a peer tutor, peer helper, and teaching aide at school. She also belongs to Students Against Destructive Decisions.
Her favorite memory from her service work is working as a teacher aide in the elementary school. "I have many memories of spending time with the younger kids," she said. "Everytime I walk in and hear my name makes me feel good. They make you feel like a celebrity."
She also is the president of FCCLA, vice president of STAR, sings in the choir, serves as manager of the track team, and belongs to the letterwinner's club.
At St. Louis Catholic Church, she sings in the choir and helps with kids' night out. Next year, she plans to attend Ridgewater College in Willmar.
Seven PAHS seniors were honored with Lions Service Awards this year. Seniors Kelly Herzberg and Laura Weidner were selected in October, seniors Maggie Frieler and Kayla Nelson were selected for November, senior Shawn Reinke was honored in February, and Klenke and Leyendecker were chosen in March.
---
Contact the author at editor@paynesvillepress.com • Return to News Menu
Home | Marketplace | Community
---