Winter leaves city hall after 22 years
This article submitted by Linda Stelling on 3/29/00.
Janell Winter has seen the usage of the motor vehicle department at the Paynesville City Hall triple during her 22-year tenure.

Winter started work in the motor vehicle department under Don Jacobson in 1978. Following his death, she took over the position as deputy registrar.

She recalls the department used computers for many years to complete their reports. Three years ago, the computer system was connected to the state motor vehicle department.

Winter said the driver's license station was added to the motor vehicle depart-ment five years ago. Prior to that, people had to renew their license and take their tests elsewhere. Earlier this month, the department received a new camera which is used to take photos for your driver's license.

Winter said over the years, the Department of Natural Resources sale of licenses for snowmobiles and ATVs has increased dramatically.

Among the changes in the license plate division, Winter said the usage of vanity plates has increased. When a person registers for a vanity plate, that plate is theirs for their lifetime unless they sign-off on its usage.

"Another popular plate are those that say T-birds or 60 T-birds," Winter said. "Collector plates can't be used on family cars used daily. They are designed for older vehicles driven in parades or to and from car shows."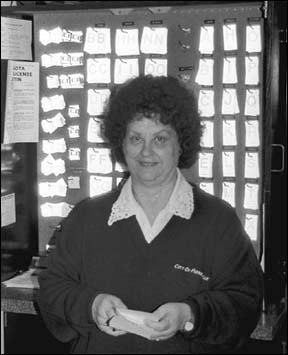 Winter isn't sure how the new tax proposal of reducing the price of license tabs will affect the department. At present, the more expensive the car, the more expensive the plates will be, she said.
Another part of her job that many people don't realize is that she has to call up people when they pay for their plates with a bad check. "I would call and notify them or write them a letter," she said. "Often we could work out a pay-ment arrangement."
Winter jokes about how everybody was worried the Y2K threat would disrupt services. Leap Year Day, Feb. 29, created a bigger computer problem, not wanting to recognize the date. When doing reports, she had to put the next days date on, March 1, since the computer would not recognize Feb. 29.
To mark her last day of work, her family surprised her with a special dinner.
March 17 was her last day at work. Winter isn't sure what she will do now that she isn't working, but some of her time will be spent on her doll collection which she started almost 30 years ago. Winter has about 100 dolls in her house. Some she has made, while others were given to her as gifts from her children.
---