Website helps those in time of need
This article submitted by Linda Stelling on 3/29/00.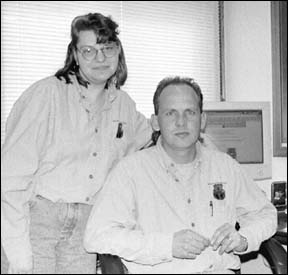 Wanting to help people in a time of financial need, Len and Amy Gilmore, Paynesville, designed a website which will reach across the world notifying people of emergencies.

It all started last summer when the Brad Winings family of Watkins asked if Gilmore could create a website for Jaren who was awaiting a heart transplant. The website started out as a hobby but has turned into a nonprofit organization. "We use a teddy bear as our logo because in a crisis everybody likes teddy bears," Len said. "Besides, they are cute."

An Internet professional, Gilmore has been working with computers since 1994. "I was calling long distance to St. Cloud before Lakedale made the Internet available to Paynesville area residents," he said. "I created my first website in 1996."

Len said each site he creates is personalized to the individual. "Some kids are into teddy bears, so I put lots of teddy bears on their site. Another person is into sports, thus I use footballs, baseballs, basketballs, items relating to sports activities," Len said. "Whatever their interests are, I'll incorporate it into their site."

At present, there are seven people listed on intimeofneed.org, their Internet site. "The families keep us posted on what is happening and we update their web- sites," he said. "Many families don't know what to do to reach out for help. They need someone on board who knows about the Internet," he added.

The site was established to provide a website on the Internet for those in need of financial assistance. The individuals being helped are going through a financial crisis due to major medical bills created by major surgery, transplant operations, or cancer therapy.

"When I started, I wanted to build a generic site to help a wider range of people. A lot of times I don't meet the people personally, I learn about them through friends or family members," Len said.

Before he will build a site, he mails a three-page questionnaire they need to complete. "I want to verify their information and know their plight is legitimate," Len said. He checks with attending physicians to learn about the person's condition, the family's church groups, and local charities to verify the authenticity of the people in need.

Paynesville physician Dr. Allan Solum serves as a support person for Gilmore to answer medical questions that might arise in explaining a person's plight.

Gilmore said it usually takes him two to three hours of preparation work trying to decide what will work best for each person's website. "I request everybody have a picture on their website," he added. The front page needs to be eye catching."

On television
In March, Jason Davis, KSTP Channel 5, brought his On the Road Again camera crew to Paynesville to film Len and Amy at their intimeofneed.org office. "It felt strange being on camera for more than an hour for only two and a half minutes of air time," he said. The show is syndicated and available to over 400 television stations.

"We were told to go about our daily work while the cameras were running," Amy said. "It was hard to concentrate on work knowing a camera was getting everything you did on film."

The Gilmores felt the story turned out nice. They have had a lot of hits (people viewing the page) on their website since it aired. They also received requests from people in California since it aired. "We have had 42,000 hits since November on our website and 12,000 in the first 15 days of March," Len said.

Amy quit her regular job to work with her husband. "It's fun to work together," she added. "At least we are in separate offices. I was worried about it at first, but we have had no problems," Amy said.

The Gilmores have applied for and obtained nonprofit status for their business. Intimeofneed.org does not handle any money. The donated money is sent directly to a trust account established by the families banking institution.

A board of directors was established to help oversee intimeofneed.org. Board members are Gilmore, Terry Thomsen, John Bergstrom, Audrey Olmscheid, Bill Spooner, and Jim Kaufman.

Seeking funds
The Gilmores have applied to founda-tions and trust accounts for funds to help support intimeofneed.org. "We are not eligible because we are set up to help people in all states. We are not specific to one age group or one disease," Amy said.

The Gilmores support the website from donations by businesses and their income from northamerica-mfg.com through which Len builds websites for corporations.

Len said name recognition is important for the project to succeed. They have brochures in every major hospital in Minnesota and in 150 hospice houses in the United States.

"It is all about helping others," he added.

People can visit the site at www.intimeofneed.org. Their e-mail address is: helping@intimeofneed.org.
---