Band members sweep solo/ensemble contest
This article submitted by Erin Aagesen on 3/29/00.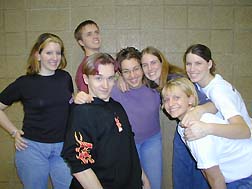 Paynesville Area High School band members once again proved their aptitude, sweeping the area solo and ensemble contest on Tuesday, March 21, in Eden Valley. Over fifty percent of the events from Paynesville, a total of 35 events, earned the highest distinction: a section superior rating.

In each of the five judging sites, Paynesville students earned the distinction of "Best of the Night," an honor given out by each judge after watching 26 events. Each judge watched and critiqued students from these schools: Eden Valley-Watkins, New London-Spicer, and Paynesville.

Becca Gardner, a junior in her first year of band, was one of the students to receive the "Best of The Night" award. She earned a perfect score of 40 plus for her twelve-page marimba solo, an oriental tune titled, "Michi."

Also earning the distinction and a perfect 40 score was a saxophone quartet made up of Casey Kavanagh on tenor saxophone, Kelsey Moser on baritone saxophone, and Kelly Loesch and Mandi McCool on alto saxophone. They performed a tune called "St. Louis Blues," a jazzy blues number.

Joe Halvorson and Corey Schmitt earned the "Best of the Night" for their individual trumpet solos. Halvorson earned a score of 37 for his piece titled, "Aria con Variazioni," while Schmitt earned a 36 for his "The Bride of the Waves."

Finally, an alto saxophone duet by Krysta Larson and Kelly Loesch earned "Best of the Night" in their site. The girls earned a score of 39 for their performance of "Vivace," a light, fast-paced piece.

The "Best of the Night" winners were, front, Casey Kavanagh, Kelly Loesch, Kelsey Moser, Krysta Larson, and Mandi McCool, and, back, Becca Gardner and Joe Halvorson. Not pictured is Corey Schmitt.

All band students in grades 9-12 were required to participate in the annual event. The students were allowed to choose what to play and with whom they would be playing, with assistance from director Bryan Mara. Class time was given to work on the music.

Accompanists for the night included Gardner, who played with 17 events; Schmitt; Mackenzie Merrill; Paula Geier; Heidi Wilder; Trista Dukowitz; and Jeanne Virant.

Both the senior and junior bands will compete at the large group contest on April 6 in New London.
---