Teacher of the year named
This article submitted by Michael Jacobson on 3/28/01.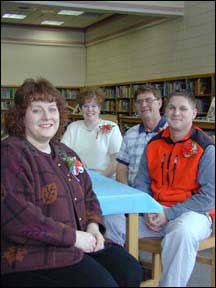 Dan Andersen didn't want to be married to an English teacher who would constantly be correcting speech and endlessly reciting grammatical rules of the English language. So when Michelle Andersen decided that she should be a teacher, and not a journalist, she had to convince her then boyfriend, now husband.

"He made me promise I would try to make it fun and try to explain why we we're doing it," she said last Thursday, a day after she was named as Paynesville's Teacher of the Year by the teaching staff.

Four teachers - Andersen (front left), elementary music teacher Charlene Strand (back left), middle school teacher Wayne Hansen (back center), and high school band director Bryan Mara (right) - were nominated for the award, the first for the Paynesville teaching staff since Cheryl Bungum was honored in 1996.

Andersen grew up in the St. John's area, attended St. Cloud State University, and did her student teaching in Paynesville, where she worked with Dick Butler in the high school and Amy Flanders, who taught in the middle school at that time.

Andersen taught in Grey Eagle and Windom briefly before getting her desired position in Paynesville six years ago following the retirement of Darron Knowlton.

She still considers Butler and Flanders as her mentors, which made the award all the more surprising to her. "I was stunned," she explained, "because my mentors are in this district."

"I'm still learning from everybody," she added.

While Andersen might have denied her calling for a time, intending to major in journalism, her mother tells her that she never had a doubt that Andersen would and should teach.

It seems that Andersen's first teaching experience came right after kindergarten. That's her first kindergarten classes. Andersen would come home from school, tie her sister to a chair with a dishtowel, and teach her the ABCs that Michelle had just learned in school.

Andersen relies on better teaching methods in her four ninth grade English classes and her journalism class these days. She has textbooks, but doesn't follow them religiously. Instead of lectures, she aims to get students involved. "Every day I try to break it up into three different activities just to give them variety every day," she said. "They don't perceive it as work sometimes, but yet they're learning."

In her journalism class for upperclassmen, Andersen puts the responsibility for running the class, and the school newspaper in the hands of the students, assigning editors and beats. "She makes us work hard," said Logan Louis, a journalism student.

"She gives us lots of freedom," added Nic Stalboerger.

"She always finds ways to make everything interesting," said junior Jeremy Sogge.

Students need to have ownership of their learning, based on their involvement in the organization and planning of the class. Without choices, "Why should they care?" Andersen asked.

"I like the challenge," she added, "of making a connection when they pretend to be so apathetic about everything."

"I can't see myself doing anything else," she said of teaching. "My heart is here. I love what I'm doing."

Andersen, who completed her master's degree last May, has three sons with her husband, Dan, who works for Louis Industries and serves on the school board.
---