Getting students to read
This article submitted by Michael Jacobson on 3/28/01.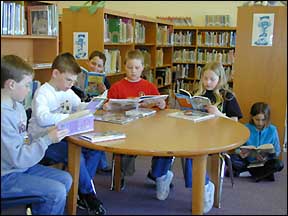 By giving students a goal, the accelerated reading program is encouraging students to read.

The program has been used for three years in the elementary school. Based on its success there, the program was expanded to the sixth grade last year and to the seventh and eighth grades this year.

"I like it," said sixth grader Tanis Beireis, who as a new student in the district is getting her first experience with the program. "It drives you to read the bigger books, and then you say, ÔThat wasn't too bad.' It drives you to go beyond your limits."

The program works by rating student reading abilities twice a year. Certain books in the library are rated for difficulty and a ten-point, computerized multiple choice comprehension test is purchased.

Students should pick out books in their reading range, read the book, and take the test. "I think the beauty of the program is that all kids are reading at their level and finding success," said Rita Brossard, media center coordinator at the elementary school.

"We're hoping it will keep kids reading for life," she added.

Books are given a certain point rating based on their length. Students who ace the test receive full points for the book, with fewer points awarded for less than complete comprehension.

Each student sets a goal to earn a certain amount of points for each quarter. For instance, Kathy Schrupp set her third-quarter goal at 37 points, a total she exceeded within three weeks. Now she is approaching 200 points by "big books" for "lots of points."

"When I started reading, I thought I could set my goals really high," she explained.

The program does get students to read more, said sixth grade teacher Scott George.

"I think it's excellent that they're getting them to read," said Jo Flanders, the aide in the middle school media center. She does have concerns about how the books are judged for difficulty, feeling it can be inconsistent and based too much on length and not content.

One difficulty is that the school must purchase computerized tests for books before they can be used for the program. Recently, the Friends of the Paynesville Public Library donated $75 to the elementary school to purchase 30 new accelerated reading tests, in order to expand the selection.

At the pace she is reading, Schrupp may have to reread books to meet her quarterly goals while in seventh and eighth grade. Schrupp and Beireis already spend a lot of time looking for good books, and recommending ones to friends.

"I'm picky about what I read, so I spend all my time (in the library) looking for books," said Beireis.

In the beginning, with more unread books, good books were easier to find. "I can't just choose any book," agreed Schrupp. "I want a good one."

"I hope they bring it into the high school," added their friend Krista Wendroth, another sixth grader.
---