Three students headed to national BPA conference
This article submitted by Linda Stelling on 3/28/01.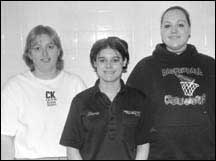 Three Paynesville students are headed to the National Business Professionals of America (BPA) competition in May.

Out of 30 teams, Jacqie Utsch (center) and Mallory Mackedanz (right) placed second at the state competition in administration support. Only the top two teams advance to nationals, according to Becky Hoey, BPA instructor.

"They were totally surprised to place that high," Hoey said.

The state BPA contest was held in Minneapolis from March 8 to 10.

In administrative support, participants create letterheads, do filing, and provide secretarial support.

Sheri Stang (left) placed ninth in banking and finance and 12th in payroll accounting. She will be attending the national contest as an alternate.

Nationals will be held from May 9 to 13 in Anaheim, Calif. The three girls have never traveled outside of Minnesota before, Hoey said, which makes the trip extra special.

The BPA held fund raising activities throughout the school year to finance the trip.

Maria Hoppe was the last Paynesville student to attend the national BPA contest in 1999.
---