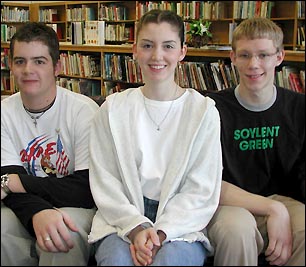 Three seniors at Paynesville Area High School were recognized this month by the Paynesville Lions Club for their service work.

Winners of the Lions' Youth Service Award for March are (left to right) Mark Braun,Wendy Bennett, and Andy Jones.

"I was excited (to receive the award)," said Jones. "It is a rarity to be recognized for all of the volunteer work I do."

Bennett and Braun were also honorer to get the award, as well as surprised.

The trio also agreed that volunteering offers great rewards. "It's very rewarding to do something for someone else," said Bennett.

"It feels awesome to help other people," added Braun. "They say you don't get anything out of volunteer work but the things I've gotten out of volunteer work are the best rewards I could get from anything."

Volunteering is a natural thing to do, according to Jones. "I have been given many gifts, and I think it would be quite selfish of me to not share my gifts with others," he said.

Bennett, the daughter of Mike and Deb Bennett, is a peer tutor and peer helper in school. She helps in elementary classrooms as a student aide and was also a student aide for science in the summer. She is an honor student and a member of the National Honor Society.

She has participated in danceline, band, marching band, Knowledge Bowl, and Future Leaders of America (FLA). She is a member of the Letterwinners' Club and has earned leadership awards in Girl Scouts.

At Paynesville Lutheran Church, she works in the nursery, helps with Vacation Bible School, is a lay reader during services, and participated in an urban immersion project in the Twin Cities.

Braun, the son of John and Jackie Braun, has been a peer helper, peer tutor, student aide, D.A.R.E. role model, and dance chaperone in school. He also sings in the choir and the pops choir, and is a member of the Letterwinners' Club.

At St. Louis Catholic Church, he is a religion teacher, a leader for the middle school youth group and a chaperone for middle school students during church activities, and an aide in the religion education office. He is a worship and praise leader, sings in the youth choir, and is a mass server.

His favorite service work is the two years he has helped with Call to Service.

Jones, the son of Neal and Inez Jones, is a D.A.R.E. role model and participates in basketball, track, cross country, band, choir, and pops choir at school. He also is a member of the Letterwinners' Club.

At St. Paul's Lutheran Church in Eden Valley, he is the president of the youth group, teaches Sunday school, serves as an usher and greeter, and performs special music. He also serves on a district board, volunteers at Camp Omega, and attended a servant event at the National Youth Gathering in New Orleans.

He also sings with On Call, and his favorite memory of service work was a six-week mission trip to India that he took with the group.

Service award winners previously recognized this school year from the senior class were Jen Bruntlett, Amy Buermann, Jen Hess, Rachel Koehn, Amy Mueller, and Ryan Whitcomb.
---
Contact the author at paypress@lkdllink.net • Return to News Menu
Home | Marketplace | Community
---