Seniors Hannah Felling and Rachel Sogge have been selected by the Paynesville Lions Club as their service award winners for March.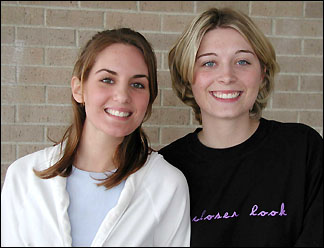 Each year, the local service organization recognizes seniors at Paynesville Area High School for their volunteer work, both at school and in the community. So far this school year, Morgan Martinson and Ann Stalboerger were honored in October, Adam Leyendecker and Susie Swyter were recognized in November, and now Felling and Sogge have been honored in March.
Seniors Hannah Felling and Rachel Sogge were chosen for Lions Service Award in March. The Paynesville Lions recognize seniors at PAHS for their volunteer work and service in the community.
Felling and Sogge agreed that it is an honor to be recognized, especially for service work. Both think that volunteering is important.
"I love the opportunity that comes with it," said Sogge, of volunteering. "You have the chance to impact someone's life for the good. I have been so blessed in my life, and sometimes you just can't hold it in!"
"There is always so much that can be done for others," agreed Felling, "and if you can help, why not? It is very rewarding to help and see others succeed."
Felling, the daughter of Richard and Brigid Felling, has tutored at school for two years and has been a peer helper and peer tutor. She is also a D.A.R.E. role model and has been a volunteer anti-drug speaker. She is the student council president, helped organize a blood drive at school last fall, was the Homecoming queen, and works on the school newspaper.
She also competes on the speech team, was a member of the school's one-act play, and belongs to Business Professionals of America.
She is currently the youth advisor to the Paynesville Area Chamber of Commerce and belongs to the state youth advisory council for the Department of Children, Families, and Learning.
Sogge, the daughter of James and Kathleen Sogge, has also tutored for two years and is a peer helper and peer tutor. She has organized "Meet at the Pole," a before-school prayer service at the school flag pole, and has been a volunteer speaker at the St. Cloud Crisis Pregnancy Center.
She is the student council secretary, is a yearbook editor, belongs to Business Professionals of America, and played three years of basketball in high school.
Both Felling and Sogge belong to the River of Life Church between Richmond and Cold Spring. Felling works in the nursery there, and has worked at Place of Hope in St. Cloud, worked on a battered women's project, and taken a mission trip to Rumania, which she said was an amazing experience and her favorite volunteer work so far.
Sogge works in the nursery at church, helps with youth group, and is a Bible study leader. She has also worked at Place of Hope in St. Cloud and has taken mission trips to Denmark and Mexico.
She doesn't have a single favorite volunteer experience. "My favorite would be when you know you made a difference in someone's life," she said.
---
Contact the author at editor@paynesvillepress.com • Return to News Menu
Home | Marketplace | Community
---