When Jim Liebl of Lake Henry was seriously injured last month in a car accident, the small community proved to be a steadfast support system for him and his family.

After the car accident, Liebl was airlifted to the St. Cloud Hospital, where he has spent the last month, including three weeks in intensive care. Three days after the accident, he underwent facial reconstruction surgery and a couple days after that he lost the use of his limbs due to swelling against his spinal column. Doctors could not pinpoint a precise cause for the swelling, according to Vicky, Jim's mother, but stated it was likely related to his head injury.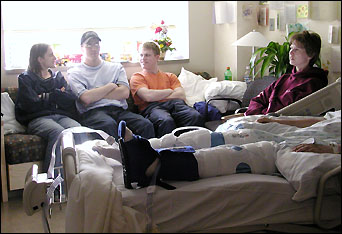 Through it all, friends and family from Lake Henry have made frequent visits to the hospital, as well as helped the Liebl family during Jim's struggle. For instance, when Jim had surgery, over three dozen people waited with his family at the hospital, bringing a stack of pizzas to the hospital to make sure his family and friends got to eat and playing cards to pass the time.
During his month stay, so far, at the St. Cloud Hospital, Jim Liebl and his family have appreciated the support of their family and friends. From right, Jim, his mother Vicky, and brother Joe, uncle Aaron, and Holly Robin watch a movie at the hospital.
"What really shocked me," recounted Dan Liebl, Jim's father, "was when Jimmy went into surgery, there were 37 people in the waiting room. I counted them."
"In ICU, they said that they've never seen so many visitors," said Joe Liebl, Jim's younger brother, a senior at PAHS.
Community support has been so great that Vicky said she'd hug everyone in town if she could. Both parents are extraordinarily grateful to live in the sort of town where residents care so deeply for each other. "I've always liked living here," said Vicky, "but this has been amazing." The community support was evident right after Jim's accident.
After spending the weekend in Lake Henry, Jim, 20, was driving home to Alexandria on a Sunday morning in late February. The 2001 PAHS graduate is nearly finished with the diesel mechanic program at the vocational college in Alexandria. About two miles north of Lake Henry, his car was hit on the passenger side by another vehicle as he was making a left turn.
Jim was airlifted to the St. Cloud Hospital from the hospital in Paynesville, and by the time Dan and Vicky got to St. Cloud they were quite surprised to find about 15 people from Lake Henry - including most of the rescue squad - awaiting their arrival.
The first two weeks after the accident, life was a blur, said Vicky, as the family focused their attention on supporting Jim and keeping him company at the hospital. Back in Lake Henry, the family relied on their neighbors to take care of the dog and look after their house.
Among the visitors at the hospital have been a host of Jim's friends. When Jim wrote down names of people he wanted to see, they basically called every name in his cell phone, said Dan. "Jimmy's got a lot of friends I didn't even know about," said Dan.
"Jim's got some devoted friends," said longtime family friend Dave Hess. "These guys are here everyday. It's unreal."
"In a bigger town you might have one or two good friends," explained Aaron Liebl, Jim's 24-year-old uncle, "but in a smaller town you know everyone."
Dan noted that the number of visitors has dropped off a bit. He speculated that originally about 20 to 30 people visited each day. Now, a month after the accident, Jim is visited by 15 to 20 people - everyday.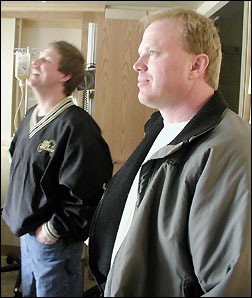 In fact, during the first couple weeks, his family sometimes had to limit visits to 10 or 20 minutes, just so everyone waiting had a chance to say hello.
So far the doctors haven't given a definitive prognosis for Jim's recovery. He has started to talk again, though with difficulty since his jaw is still wired shut. Though he is unable to move his legs, he can feel stimuli and has regained limited mobility in his arms.
As is often the case for visitors in Jim's room, it was standing room only for father, Dan (right) and former neighbor and longtime family friend, Dave Hess (left).
The biggest challenge right now is for Jim to regain mobility in his legs. "They don't really know," said Vicky of his prognosis. "They say it could be a month, a year; it could be never."
But, added Vicky, her son is very determined to walk again.
"There's no question," added Aaron, "Jim's going to walk again."
"Jim's got a lot of support behind him," agreed Dan. "We'll do whatever it takes to get him on his feet and back on the baseball field."
Jim plays amateur baseball for the Lake Henry Lakers.
A fund-raising meal and silent auction are being planned to benefit the Leibl family for Friday, May 23. Plans are still in the works, according to Hess, but so far the response from people who want to help has been overwhelming.
The community support has been overwhelming, agreed Dan and Vicky, who both grew up near Lake Henry and are grateful for the support. They have lived in Lake Henry since 1984 and raised both of their sons in the small community with a population of 90.
Dan has been a member of the rescue squad for two decades and was mayor of the town for ten years. For him, the support of the Lake Henry community during Jim's hospitalization is exactly why the family lives there. "I've got friends who live in big towns who don't know their neighbors. That's sad," he said. "I know some who do (know their neighbors) but don't want to know them, which is sadder."
---
Contact the author at editor@paynesvillepress.com • Return to News Menu
Home | Marketplace | Community
---