Two representatives to girls state camp and two alternates have been chosen from the junior class at Paynesville Area High School by the American Legion auxiliaries from Paynesville and Lake Henry.

Eleven girls showed interest in the girls state program, and seven actually applied. Chosen as girl state representatives were Heather Fuchs, the daughter of Cindy and Steve Fuchs, and Sami Tierney, the daughter of Dean Hanson and Charon Tierney.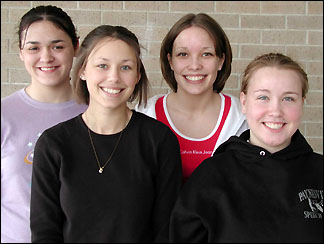 Fuchs and Tierney will attend girls state camp from June 8-14 at Bethel College in St. Paul.
In order to generate more interest in the program, interested girls were shown a video about the camp, said Lois Nehring of the Paynesville Legion Auxiliary. Last year, two girls were chosen - Kayla Hemingson as state and Mindy Meagher as alternate - but in some previous years there have been no staters at all.
Chosen as girl staters at Paynesville Area High School were (front) juniors Heather Fuchs and Sami Tierney. Alternates (back) are Angie Wunsch and Amy Roberg. As staters, Fuchs and Tierney will attend camp in June and all four will participate in memorial programs and do daily functions, like handling the flag, at PAHS.
The girls agreed that the video did make them interested in attending camp. "I really didn't know what it was about at all," said Tierney, "so I figured I'd check it out."
"Other people have talked highly about it," said Fuchs. "Kayla and Mindy did it and had fun. It's really an honor and a good opportunity."
State camp includes exercises in mock government as well as usual fun and games. "It's learning about civics and government first hand," said Tierney.
The staters were rated by the faculty on their contributions to school and the community, on their character, on their citizenship, and on scholastic merit, and then voted on by the auxiliary members, said Nehring.
In addition to Fuchs and Tierney attending camp, all four staters will participate in services at Memorial Day and Veteran's Day and at graduation. They also will read daily announcements, raise and lower the flag in front of the high school each day, and lead the Pledge of Allegiance weekly at PAHS.
Since Fuchs and Tierney will be going to camp, Roberg and Wunsch will lead this year's seniors into the gym for graduation. Roberg is the daughter of Gary and Fern Roberg, and Wunsch is the daughter of Karen Wunsch.
Tierney represents Paynesville, with Roberg as her alternate, and Fuchs represents Lake Henry, with Wunsch as her alternate.
All four expressed their gratitude to the American Legion auxiliaries for supporting the program. "We're all really honored," said Tierney, "and we thank the auxiliary for this opportunity."
Boy staters are still in the process of being selected.
---
Contact the author at editor@paynesvillepress.com • Return to News Menu
Home | Marketplace | Community
---