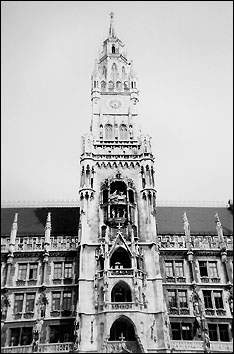 Living with typical German teen-agers in average German families was one of the highlights for Paynesville Area High School students who recently returned from a 10-day trip to Germany.

German teacher Darrel Carstens accompanied 37 of his junior and senior students on the recent trip.

The favorite part of the trip for many of the students was a five-day stay with German families, partially because most of the PAHS students already knew their German siblings.

Students from PAHS enjoyed sightseeing, including seeing the world-famous Glockenspiel in Munich.

Last September, for the first time, students from Ulm, Germany, visited Paynesville as part of a school trip. While here, the German students lived for two weeks with the families of the PAHS students who visited Germany this March.

Therefore, except for three exceptions, Paynesville students spent their family stay with a familiar student. For many, it was visiting a friend.

While living with their host families, the students went to school, took part in the day-to-day activities of their host families, and did some sightseeing on their own.

"My family was really nice, and they made me feel really welcome. I had a blast and my girl was awesome," wrote junior Gretchen Fenske in a review of her trip.

According to senior Jennifer Berg, her family was just like any family in the United States. What surprised her the most about Germany wasn't the way folks live, but the way they drive. "They drive right on the sidewalks and even park there," she wrote.

"I was so sad when I had to leave my family. I started to cry. That was very surprising to me," wrote Berg.

The PAHS students left Minneapolis on Saturday, March 8, and arrived in Frankfurt on Sunday, March 9, and then traveled by bus to Rothenburg. They spent Monday and Tuesday in Munich and began their five-day family stays in Ulm on Wednesday.

After their home stay, the students had one day to visit Mainz before returning to Minneapolis on Tuesday, March 18.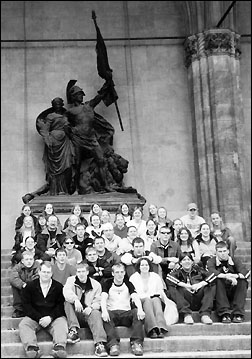 Sightseeing highlights for the group included a torture museum in Rothenburg that had an exhibit of over 6,000 devices; the Glockenspiel and the Olympic Stadium in Munich; Dachau, a concentration camp near Munich; and the Neuschwanstein Castle in the Alps, which was the model used for Cinderella's castle at Disney World.
The Paynesville students posed for a group photo in Munich. Paynesville students have traveled to Germany every other year for the past 28 years to experience German culture and to practice their language skills. A highlight of the trip was a five-day family stay in Ulm, where students had the opportunity to renew friendships with German students who visited Paynesville in September 2002.
While on the trip, students honed their German-speaking skills as well as experienced German culture first hand. Many of the students thought speaking a foreign language was difficult at first, but they got the hang of it in the short time they were there.
"It was hard at first, but I figured that I might as well just try, and I ended up doing just fine," wrote senior Sam Thompson.
"Speaking a foreign language is a lot of fun to learn, and a great experience if you get to travel and use it," wrote senior Sara Massman.
PAHS students have made the trip to Germany every other year for the last 28 years, except in 1991, when the trip was cancelled because of the Persian Gulf War.
According to Carstens, any concerns about the students encountering any anti-American sentiment because of Germany's stand against the war in Iraq were unfounded. While there were some anti-war demonstrations and some anti-Bush protests, his students were treated very well and were never personally exposed to any anti-American attitudes, said Carstens.
For most of the kids, the only bad part of the trip was that it had to end. According to junior Amanda Stelling, it was sad to leave just when they were getting used to it. "I liked everything. It would be nice if we could have went a few more days," she wrote.
---
Contact the author at editor@paynesvillepress.com • Return to News Menu
Home | Marketplace | Community
---