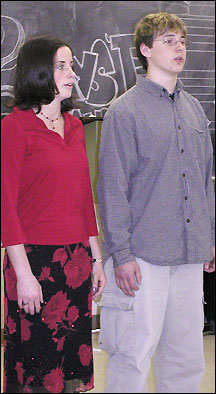 Sixty choir members from Paynesville Area High School competed in a vocal solo and ensemble contest held at PAHS on Monday, March 17.

Also participating in the contest were students from Belgrade-Brooten-Elrosa, Eden Valley-Watkins, and New London-Spicer.

Of the 114 total entries, 63 were from PAHS, including 59 vocal solos. Of these, 26 students sang solos at contest for the first time.

Senior Laura Stoneburner and junior Matt Gardner sing with the Pops Choir at the solo/ensemble vocal contest held at PAHS on Monday, March 17. The Pops Choir earned the highest rating, as did Gardner and Stoneburner for their solos.

Eleven PAHS students earned the highest rating available, state superior, for their solos. In addition, the Pops Choir earned a state superior rating, as did two PAHS duets.

Junior Nick Binsfeld was one of the soloists to earn a state superior rating. On top of that, Binsfeld's solo was picked by his judge to be the best of site; that is his solo was judged the best out of all the soloists and ensembles heard by that judge.

Nineteen PAHS soloists, and one duet, were rated as state excellent, the second highest rating available.

Judges gave the students verbal and written comments as well as a rating.
State Superior Solos
Nick Binsfeld, Justin Butkofski, Courtney Colbert, Matt Gardner, Chris Kern, Adam Leyendecker, Kayla Nelson, Lindsey Pelton, Laura Stoneburner, Sami Tierney, and Josh Williquette.
State Superior Ensembles
Morgan Martinson & Ashley Spanier Kayla Nelson & Tanya Whitcomb Pops Choir
State Excellent Solos
Trista Bork, Laura Buermann, Amanda Burlingame, Valerie Callenius, Adam Hemmesch, Stephanie Hormann, Amanda Kern, Allyson Klenke, Caitlin Lien, Michelle Magedanz, Emily Mehr, Katie Nelson, Sara Ringstad, Kayla Rooney, Jessica Sheets, Brittany Stang, Tanya Whitcomb, Lindsey Wyffels, and Carrie Zirbes.
State Superior Ensembles
Courtney Colbert & Lindsey Pelton
---
Contact the author at editor@paynesvillepress.com • Return to News Menu
Home | Marketplace | Community
---