Hawick man takes part in experimental heart
This article submitted by Linda Stelling on 3/24/98.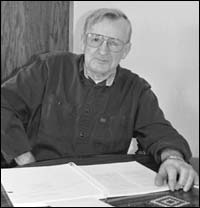 Charlie Weber, 71, Hawick, was about to give up on life. He had even started to plan his funeral until he received a telephone call from his doctor asking if he would like to be part of an experimental heart procedure.

Weber and his family have a history of heart problems. He has been combating heart problems since 1978. His last major heart attack was in 1991. He has had three heart surgeries, an angioplasty and has three major blood arteries plugged. He was living with constant pain.

ďThe last time I was at the St. Cloud Hospital, they sent me home and said there wasnít anything they could do for me anymore,Ē Weber said. ďConsidering the condition I was in, I was ready to grab at anything. I wouldnít have considered it if I didnít feel as young as I do.Ē

The experiment Weber took part in is PMR, a percutaneous myocardial revascularization. It is an experimental procedure that is performed by an interventional cardiologist.

Laser energy is used to create channels in areas of the heart muscle that currently do not receive sufficient blood flow. ďThey poked 15 holes (channels) into my heart,Ē Weber said. ďThe channels help promote new blood vessels to form.Ē

To participate in the PMR study, patients had to meet certain requirements and undergo a series of pretests. The tests included a medical history and physical exam, a cardiac angiogram, exercise tolerance tests, a 2D echocardiogram, a thallium stress test, and an evaluation of chest pain based on the Canadian Cardiovascular Society Angina Scale. ďI needed to be out of the hospital 21 days before I could enter the program,Ē Weber said. ďI had been in and out of hospitals for several years.Ē

Weber underwent the experimental procedure on Feb. 26 at the Mayo Clinic in Rochester. ďI was awake for the whole procedure,Ē he said. They kept him in the hospital overnight to make sure the catheter holes sealed properly.

Two other heart patients, one from Zumbrota and the other from Missouri, underwent the same procedure as Weber. They were the first humans to undergo the experimental procedure in Rochester. Prior to this time, only test animals had been used for this procedure.

PMR is part of an FDA regulated process to evaluate the safety and efficiency of the procedure. It will probably be a few years before it wonít be considered experimental.

The purpose of the study is to gain experience with a laser device that creates small channels in the heart muscle. The laser energy is delivered to the inside surface of the heart using a special catheter placed inside the heart during cardiac catheterization.

The procedure takes about one to two hours to perform. The tiny channels are about 1/25th inch in diameter and will be created in areas of the heart muscle lacking blood supply. X-ray dye injection is used to properly position the catheter.

Following the procedure, patients return to the hospital three, six and 12 months to have a physical examination, an assessment of their symptoms, a quality of life and exercise tolerance test.

ďEvery day that goes by gets better,Ē Weber said. ďAfter only a few weeks, I can feel the difference the procedure has made. I didnít think the PMR procedure would work, but I had nothing to lose.Ē

ďWords canít explain how great I feel. When you are used to waking up in pain and going to bed in pain, it wears you down and a person gets depressed,Ē he added. ďIím about ready to go dancing and start leading an active life again.Ē

Weber says he wakes up mornings thanking God for another day without pain. ďI want to let other people with heart problems know there is hope for them. Donít give up,Ē Weber said.

Weber hopes on his next visit, the doctors will be able to cut back on some of his heart medication. He is on five different types of heart medication plus morphine.

---