DECA advances five to national competition
This article submitted by Linda Stelling on 3/24/98.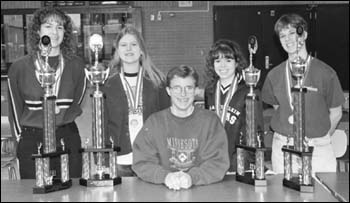 Five DECA students from Paynesville earned the right to advance to national competition.

Qualifying to attend the National DECA Conference in Denver, Colo., April 25 to 29 were Craig Keller, Lindsey Moser, Sarah Lahr, Tracy Stang and Rachel Gifford.

Lindsey Moser received one of 10 awards given statewide to ďMarketing Education Student of the Year.Ē

State champions were Rachel Gifford in marketing management and Craig Keller, job manual.

Second place winners were Tracy Stang, apparel and accessories; and Lindsey Moser and Sarah Lahr, learn and earn project.

Third place honors went to the DECA quiz bowl team of Rachel Gifford, Kurt Habben, Lindsey Moser, and Karl Sanborn.

State finalists were: Tracy Stang and James Kollmann with their business and financial services project; Rachel Gifford, entrepreneurship written event; Richard Torborg and James Gilk, free enterprise project; and Lindsey Moser, retail merchandising.

ē†ē†ē


Moser is first DECA student in over 20 years to receive the Marketing Education Student of the Year Award. She is the daughter of Martin and Laurie Moser, rural Paynesville. A member of the National Honor Society, is treasurer of the student council, is a member of German Club, a science laboratory aid, and is a Girl Scout silver award winner and is working towards her gold award. In her junior year she also serviced on the local DECA council. Moser serves on her church pastoral call committee and pastoral intern committee, is a communion server, liturgy reader, a peer tutor, and Sunday school teacher.
---