Shara Mihm is year-long resident at PAHCS
This article submitted by Michael Jacobson on 3/24/99.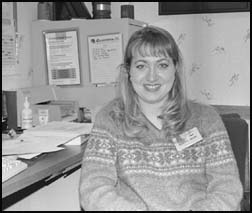 Since July 1, the Paynesville Area Health Care System (PAHCS) has had a doctor of pharmacy (pharmD) resident.

Shara Mihm spent eight weeks here last winter as part of her required rotations. After graduating in June, she decided to gain more experience working in a clinic environment, and chose to do a year-long residency at PAHCS.

She will be working here until the end of June.

She reviews medications for patients in the hospital, the clinic, and in Koronis Manor. She looks at the hospital charts daily and has around four appointments at the clinic. When they enter, Koronis Manor residents are assessed for pain medications and this and other medications are monitored routinely.

In the clinic, two common ailments for which she monitors medication levels are diabetes and heart disease. For diabetics, the goal is to maintain a healthy glucose level through diet, exercise, and medication. Patients who suffer strokes, have irregular heartbeats, or have had a valve replaced often are prescribed Coumadin, an anti-coagulant that prevents blood clots.

"It's a touchy drug," said Mihm. "Having us manage it in the clinic prevents a lot of side effects."

In addition, Mihm helps with diabetes and asthma education. She organized a cholesterol screening on Saturday, March 13. For a free testing of cholesterol levels, 64 people came to the screening.

Mihm is also helping Laura Odell, the hospital system's pharmD, precept the Rural Health School currently being run at the clinic and hospital. That is a real change from last year, when Mihm was the student and Odell the teacher. "Now I work independently," said Mihm, "but I still ask her questions."

Mihm has been building her own patient base at the clinic, as well as taking over the pharmD duties in the hospital.

Mihm grew up in Virginia, Minn., and was always interested in a medical career. She chose pharmacy over physical therapy and attended Mesabi Community College in Virginia and the University of Minnesota in the Twin Cities.

In her final year of schooling last year, Mihm completed 10 rotations at different medical facilities. Because she liked and wanted to work in a clinical setting, she opted to do a year-long residency this year.

She is paid by the University of Minnesota through a federal grant. The university chose the site. "They thought the program here was a good learning environment," said Mihm.

Mihm said the health care staff here have been very open and friendly. She especially appreciated the relations with the doctors. She said they were very knowledgeable about the contributions a pharmD can make and it was easy to work with them.

She was nervous when she arrived that she would have trouble meeting people and consequently might be bored, but she now plays in volleyball leagues three nights each week.

"I really like it here," Mihm said. "I'll be sad to go."

In August, Mihm will be starting a job in Moose Lake, Minn. The setting at that job is similar to her work here, she said.
---