College class takes Paynesville pair to Asia
This article submitted by Michael Jacobson on 3/24/99.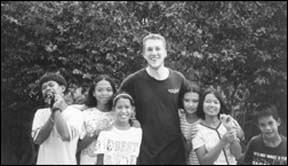 Seeing Chinese countryside, meeting Filipino children, and performing for Christian churches were part of the requirements for Ryan Louis and Mike Putzke during the January interim semester at Bethel College, St. Paul.

Through the multicultural theater class, 18 students and one professor journeyed to China, the Philippines, and Singapore to share a message this January. Their group performed skits in churches and villages and at schools and universities.

It was the second year the class had gone to China. Last year, the group was in China for a only few days, but this year they spent the majority of their time there, two full weeks.

The group's performance consisted of three skits and some songs, including a couple Chinese numbers. The first skit–"God the Father, God the Son, God the Holy Spirit"–highlighted the Bible story from creation to Jesus' resurrection. "Shoes" was a comedy that they described as hilarious. "They made it such a huge farce," said Louis. "It was really slapstick."

The final skit was a mime in which angels warded off evil spirits. Louis said spiritual warfare is part of the Chinese world view, so they easily understood the mime.

The group performed eight times in China. Louis was one of the actors, and Putzke was the video cameraman and fixed technical problems. Both are sophomores. Louis is majoring in history with a Greek minor. Putzke is interested in computer science.

There was a language barrier for the other skits. The group's translator would say the text in Chinese, but Louis and Putzke said something was lost in the translation, especially in the comedy.

"In China, everything had to be really visual," said Putzke.

For these skits, their director had used aspects of Chinese opera, including their clothes and the use of fans. "He knew some of these (cultural symbols) and he was able to put that in the show," explained Louis. The Chinese audience picked up on these symbols, even in their Americanized version.

The purpose of the trip was to provide encouragement to local churches and to inspire people to use their creativity. The gifts of creation and creativity were themes through all the performances. The group called itself "Servants Creating Creative Servants."

"We really stressed that they are individuals, and they have the power to do things. They haven't had a lot of opportunity in the past," said Putzke.

In China, churches were outlawed during the Cultural Revolution in the late 1960s. "(The government) wanted them to believe in the Communist utopia," said Louis. They performed in one large church that had been turned into a dormitory during the Cultural Revolution.

The Bethel group limited their performances to state-sanctioned churches, called the Three Selfs Church. They also were cautious about what they said.

The group was actually monitored by two government spies, but Louis and Putzke were actually surprised by the public openness. Ten course meals were common. A mayor attended the meal in one city. In another, the group was led through the city by a brass band.

"Stuff like that really caught us off guard," said Putzke.

"I think it's because we hear so many horror stories, but it was much more open," said Louis.

In the past, the church membership rosters had been given to the government and members persecuted, but despite some leeriness on the part of church members the churches are healthy and growing now, Louis and Putzke said.

The underground church continues to survive and thrive. Louis said he heard about an underground church bishop who claimed to have one million members in a single province.

Their group was actually classified as a tourist group, not a missionary one. Both enjoyed that aspect of the trip. After landing in Hong Kong, they spent most of their time to the north of that metropolis in Fujian Province. They flew to the city of Xiamen, but spent much of their time in the rural areas. They went hiking and rafting on bamboo rafts in the Wuyi Mountains. "It's probably some of the most beautiful country I've ever walked in," said Louis.

On that hike, they got lost and faced a steep incline when a local farmer found them and led them back. They came out at a 1000-year-old Buddhist temple done beautifully in Chinese style.

They didn't get to see the Great Wall, but were happier to have gotten a better look at everyday life. Their tour guide/ translator took them to some familiar sites, but also tried to show them the genuine China.

They certainly got to taste genuine Chinese food, which they reported as vastly different to its American cousin. Up to 15 courses would be served to the group, which was far more than they could eat.

The staple food was rice. "They eat rice like we eat bread," said Putzke.

"The first couple of meals were slow," added Putzke. "We couldn't pick anything up," explained Louis. After a few meals, however, they had the use of chop sticks mastered.

Because they toured near the coast, they were served a lot of seafood, including fish, prawns, squid, octopus, and snails, which they learned to eat by quickly sucking the meat from the shell.

Louis found out that his favorite dish was made from a pig's stomach. "I loved it," he said. "I ate it all the time."

"Mike was notorious for eating fish eyes," Louis added.

"Oh, delicious," said Putzke.

One thing they weren't well prepared for was the weather in China. "It's cold outside. It's fall weather," said Putzke. "It's cold inside. They don't heat the buildings."

In the Chinese towns and countryside, nearly 20 whites were quite an attraction. They were pointed at on the streets and were asked for autographs and pictures after performances. "It was odd to be treated as a celebrity," said Louis.

The Chinese primarily see America through movies, which leads them to have glamorized impressions of life here.

After two weeks in China, they flew to two medium-sized islands in the Philippines. The group has been travelling to the Philippines for more than a decade, so here they had to catch up with a number of old friends. Two drama groups have started there as offshoots of the Bethel group.

In seven days in the country, excluding travel time, they performed 14 times. Normally they would split into two smaller groups during the day, and then reunite for a large group performance at night. During the day, they would perform a scene to a school, and then re-enact the scene with the students. Frequently, these daytime performances would be part of a celebration for a school opening.

More people understood English in the Philippines. "They really enjoyed the show," said Putzke. "They were just rolling."

By then, the group was getting tired with the show themselves. "To have a really live crowd was very important," said Louis.

Because the Philippines is overwhelmingly Catholic, they were much freer in their performances there. They actually performed in a factory for morning devotions and on a village basketball court. For that one, the sun was so hot that Putzke was glad he wasn't on stage in overalls for a costume.

For another performance, they had to climb two kilometers up to a mountaintop village because it was too muddy for their jeeps.

They also visited a huge orphanage run by a couple who had attended Bethel. Putzke raved about the beauty of children in both China and the Philippines.

Their last stop was a relaxing couple of days in Singapore, where they performed twice before returning home.

"I would go back in a heartbeat," said Putzke of the trip.

"You can learn a lot from reading a book and being in a classroom," said Louis, "but there's a different type of learning that takes place (on a trip)."

One of the lasting memories for them will be the friendships they made. Both have written and e-mailed students they met abroad. Having made Christian friends across the world is a powerful experience, they said.
---