Early morning hours don't phase Thomes
This article submitted by Linda Stelling on 3/24/99.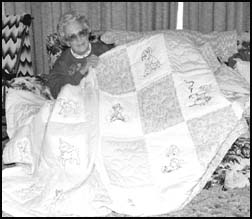 Loretta Thomes, Paynesville, doesn't mind getting up early in the morning and going to work. She can be seen walking the four blocks to work daily.

At 72, she doesn't show any signs of slowing down. For the past 20 years Thomes has baked pies at Tuck's Cafe, starting work at 5 a.m. "When we lived on the farm, Frank and I had to have the cows milked and the kids ready for school by 7 a.m," Thomes added. "I love being up early."

As of March 1, her schedule became a little easier. Her work day now starts at 6:30 a.m. "Some days are busier than others," Thomes said. She usually works from 6:30 to 11 a.m., six days a week.

In April of 1978, she and Frank moved into Paynesville from the farm. Frank died in October and in November she started working at Tuck's. Thomes said it all started when she saw a sign out in front of Tuck's stating: "cook wanted."

Each evening before he goes home, Kevin Schoenherr, Tuck's owner, makes out a list of pies needed for the next day.

"Fridays are usually busier," she said. "The number of pies baked each day varies. A lot depends on people's moods, the season, and day of the week. Some days people are in the mood to eat pie and when they are gone, I start baking all over again," Thomes added.

Thomes usually bakes about five pies at a time. If she places a double rack in the oven, then she is able to bake 10 pies. She bakes all the crusts for the creme pies at one time.

"When we're squeezed for time, I bake more apple pies at a time. Some pies take longer to bake than others," she explained.

The busiest time of the year for baking pies is the Thanksgiving holiday. "I've never been a pie eater," Thomes said.

Among the favorite pies at Tuck's are: coconut cream, peanut butter, sour cream and raisin, lemon meringue, banana cream, and apple.

In between baking pies in the early morning hours, she also makes breakfast for customers at the cafe and gets the roasts in the oven for the noon meal. "I really enjoy working and being with people," Thomes said.

When she isn't working at Tuck's, she is busy making quilts at home. This winter she and her daughters have made five twin size quilts. The quilts will be given away as graduation presents to grandchildren. "The quilts will all be going to college in the fall," she added.

Thomes has 10 children, 23 grand-children, and four great-grandchildren. "I love to quilt," she said. "I learned from my grandmothers. I have made quilts for all the children, grandchildren, and great-grandchildren."

Her granddaughter Maranda's quilt has Precious Moments scenes. Her daughters helped trace the pictures from books and transfer them to quilt blocks. The girls also helped stitch some of the blocks, she said.

Loretta said piecing the blocks together is probably the hardest part to making a quilt.

"During the summer months is when I get things ready for the quilts. The girls and I have a lot of fun painting the quilt blocks," she said.

Loretta added that she usually keeps extra quilts on hand for gifts and for the St. Isadore Mission Group at St. Louis Catholic Church.

Besides quilting and baking pies, Loretta loves working in her garden, crocheting, driving tractor, babysitting, and sewing. "I love doing just about everything," she said. She still enjoys going out to the farm and helping out when needed. She also volunteers her time at the Good Samaritan Care Center.

Loretta plans to keep working as long as she is having fun. "I enjoy working and love to be with people," she added.
---