For one of her first Mother's Days, Lois Johnson received a set of golf clubs from her husband Todd, an avid golfer since high school. While golf was not a love of hers, she knew it was one of Todd's passions.

So, she quickly chose to embrace it. "I decided early on that I better learn to play golf," she explained. One of her passions, on the other hand, traveling, was not one of Todd's favorites.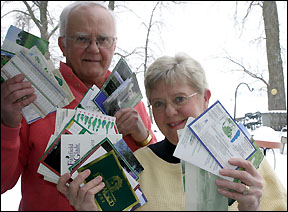 But the couple found a unique way to combine their loves - golf and travel - by taking driving trips and playing golf together in all 50 U.S. states.
"It's something we both like to do," explained Todd. But, actually, it's something that they have both learned to enjoy. Golfing trips merged their passions for golf and travel.
Todd and Lois Johnson hold the score cards from their golfing trips to all 50 states outside their Lake Koronis home. In January, the couple golfed in Hawaii together, their 50th state.
In January, Todd and Lois golfed in Hawaii, their 50th state, completing a ten-year effort to golf together in every state.
The Johnsons, who have been married for 43 years, had golfed together in a dozen states before taking an Alaskan cruise ten years ago. They rented clubs in Alaska and played nine holes at the Fairbanks Golf and Country Club in September 1994. The course, cut out of pine trees, calls itself the farthest north golf course in the United States. Todd and Lois got a certificate after playing the course.
Grass was sparse on the course, according to Todd, due to winter kill, and the course had astroturf greens. Todd learned the hard way to run his shots onto the green. His first iron shot hit a green on the fly and bounced over by 40 yards!
After golfing in Alaska, golfing together in all 50 states seemed possible for the Johnsons. "Then we decided we could actually do it," said Lois.
"The rest have got to be easy," Todd recalled thinking after golfing in Alaska. "They were. We got the toughest one done."
After Alaska the Johnsons, who have lived in Paynesville since 1975, actually planned driving trips around golf, purposely traveling through states where they wanted to golf.
They did not, however, plan detailed itineraries. Most of the time, they simply drove, not on the Interstate, and found courses where they could play nine holes, since 18 holes of golf took too much time while traveling.
"We've played some really nice courses and some real dogs," Todd explained. "That wasn't our plan to play four-star courses. We'd just drive along until we found a course that had some tee times."
That's how they found the course by an airport in Wyoming and the course run by an American Legion club in Kansas.
Prior to their Alaska trip, Todd and Lois had golfed together in California, Colorado, Florida, Louisiana, Minnesota (counting their home course, Koronis Hills in Paynesville), Mississippi, Missouri, Nevada, South Dakota, Texas, Washington, Wisconsin, and Wyoming.
They took seperate trips to golf in Arkansas, Oregon, and Tennessee, but they golfed in a majority of the states on driving trips.
In 1995, they stayed in New England and golfed in Maine, New Hampshire, and Vermont.
In 1997, they took a driving trip to the south, playing golf in Alabama, Georgia, Mississippi, North Carolina, and South Carolina.
In 2000, on a trip through eastern states, Todd and Lois played 17 rounds in 10 states (Connecticut, Delaware, Maryland, Massachu-setts, New Jersey, New York, Pennsylvania, Rhode Island, Virginia, and West Virginia).
In 2002, they drove 4,582 miles in 16 days, playing golf in Utah, Idaho, Nebraska, Montana, and North Dakota. They also took a fall trip in 2002, hitting Illinois, Iowa, Indiana, Kentucky, Michigan, and Ohio.
In 2003, they took a February trip to play golf in Arizona, New Mexico, Oklahoma, and Kansas, which was their 49th state.
They saved Hawaii for their 50th state, taking a week-long trip to Maui and Kauai in January 2004. They played golf in their 50th state at the Makai Course on Kauai, overlooking Hanalei Bay. Their favorite hole was #7 on the ocean course, a par-three hole requiring a 100-yard carry over the ocean water.
Todd and Lois have also played golf together in four foreign countries: Canada, the Dominican Republic, Mexico, and New Zealand, where their son-in-law is from and where their daughter used to live.
Having completed their quest, Todd, a retired veterinarian, and Lois, a retired nurse practitioner, would like to go back to a few states, notably Hawaii, Maine, and South Carolina. They also would like to golf more in Minnesota.
"Now we can just go where we really want to," said Todd.
After Alaska, Todd and Lois started to keep all the scorecards from their golf travels, which was such a good idea that they wish they would have done that from the start. They also wish they would have dated each card when they played.
While the Johnsons realize that not everyone wants to golf in every state, they feel that combining passions and using them as a motivation is a worthwhile idea for any couple, whether they want to bike on all trails in Minnesota, whether they want to hike in every national park, or whether they want to motorcycle in every state.
"You don't have to golf in every state," explained Lois. "It was a fun way to get us traveling."
Golf Trip Highlights
Highlights from Todd and Lois' golf travles include:
Best Course: Indigo Run, a Jack Nicholaus-designed course at Hilton Head, S.C.
Most Beautiful Course: Baywood Greens in Delaware, with flowers everywhere, around every tee and around every green.
Most Scenic Course: This was a hard choice. Todd really liked Telluride Golf Course, the second highest course (in elevation) in the United States, for its great views. Lois really liked playing in Hawaii, where they could hear the surf from the ocean while playing against a backdrop of mountains. They both agreed with each other's choice, plus they both really liked Moab Golf Course in Utah, where the plush green golf holes contrasted against the red buttes of the desert.
Course with the Most Famous Members: Cape Arundel Golf Course in Kennebunkport, Maine, whose members include former President George H.W. Bush, current President George W. Bush, and Florida governor Jeb Bush.
Most Expensive Course: Tahquitz Creek in Palm Spring, Calif., where they paid $160 apiece.
Cheapest Round: $5 to play nine holes at a course in a state park in New York. (In New Zealand, Todd and Lois played at a course without a clubhouse, where golfers were on their honor to pay their green fees. They did, so it was not the cheapest. This course used roaming sheep to keep the grass short.)
Worst Course: Latona Golf Course in New Jersey, which had more gravel than grass in the fairways, bad greens, and unfriendly people, they said.
Most Memorable Hole: Hitting over Hanalei Bay on #7 at the Makai Course on Kauai in Hawaii.
Course They Would Most Like to Play Again: Tie between Indigo Run at Hilton Head, S.C., and the Makai Course on Kauai in Hawaii.
Best Round:Todd, a two-time club champion at Koronis Hills, shot 77 for 18 holes at Fairfield Glade in Tennessee and 77 for 18 holes at Mt. Washington in New Hampshire. He also shot 39s at Kennebunkport and at Polish Pines in West Virginia.
Lois's lowest recorded score for a round was 3 at Sonoma Ranch in New Mexico, where her only recorded score was her par on a 139-yard par-three. "She beat the heck out of me that day," said Todd.
The Johnsons play golf casually, which means keeping score is optional. Why keep score if it's going to ruin your day is their philosophy. For roughly half of their rounds, they did not keep score, including rounds where they started to keep score and then stopped. Another quarter of their rounds only have scores for Todd.
Worst Hole: 26 by Lois, who did not keep track of her strokes and Todd duly marked her for a 26 at Moss Creek in Ohio.
Funniest Golf Course: The American Legion Golf Course in El Dorado, Kan., which also had a bingo parlor.
Course Closest to an Airport: Airport Golf Course in Cheyenne, Wyo., which had a fairway running parallel to the runway.
Most Unique Course: Fairbanks Golf and Country Club in Alaska, which had signs warning golfers to beware of bear and moose.
Exotic Animals: Since they saw neither bear nor moose in Alaska, the most exotic animal they saw were alligators at Mississippi National Golf Club in Gautier, Miss. (The chickens running loose in Hawaii deserve honorable mention.)
Funniest Sign: A Missouri sign said: "It matters not the drive you got, if you mess up your second shot."
---
Contact the author at editor@paynesvillepress.com • Return to News Menu
Home | Marketplace | Community
---