When Ken and Dana Spates of Paynesville left for a mission trip to St. Lucia in January, they knew they were going to a poverty-stricken area, but they were shocked when they learned just how bad the living conditions were for the poorest citizens of the small Caribbean island.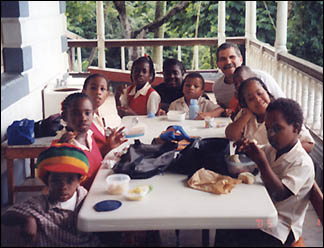 On some parts of the island, large families live in small metal shacks with no indoor plumbing. This was in sharp contrast to the very rich who lived in the cities and ran the island's resorts, said Ken. "The conditions are a lot worse than we're used to," he explained.
Ken and Dana Spates enjoyed interacting with the people as well as building houses. Here Ken (at back, right) is pictured at a preschool on St. Lucia.
Helping some of those families overcome their poor living conditions was the primary mission of the Spates' two-week trip with Good News, a volunteer organization based in Wisconsin, to St. Lucia, a small island located northeast of Venezuela. Houses built by volunteers are small, only 16 feet by 20 feet, and they have no indoor plumbing or modern appliances, but the residents are always overjoyed to get one because they are much better than the small, dirty huts where many of the islanders live, explained Dana.
"When you see a woman with six kids move into a 16 by 20 house and she's happy, it puts it all into perspective," said Dana.
But the houses weren't the most important part of the trip, stressed Dana. Ken - whose everyday job is to work with handicapped adults - also spent a few days working with handicapped people in St. Lucia while Dana taught yoga to some disadvantaged teenage girls and helped with sing-a-longs and craft classes for children and adults.
While others may not consider making crafts, singing, and learning yoga and dance as important as providing shelter, Dana believes that helping the islanders learn how to have fun was important. "These people never play," she explained. "They are only concerned with making it from day to day."
On one occasion, Dana and Ken accompanied some elderly nursing home residents to the beach for a sea-water bath to sooth their bodies and souls, said Dana. Knowing how much the elderly participants appreciated the simple gesture put smiles on the volunteers' faces, she said.
Their own living conditions on St. Lucia were sparse, said Ken. They lived in a retreat center owned by the local archdiocese. The water was solar heated, but overcast skies throughout the trip meant that the volunteers could take only cold, drippy showers, said Ken. Still, the Spates didn't mind. "It was pretty primitive, but after we saw how others lived, it seemed pretty nice," said Ken.
The Spates learned of Good News - which, in addition to building houses, also provides volunteer doctors, dentists, and teachers for the poor in the West Indies - after Ken attended a silent retreat with one of the organization's founders. While the Spates had never been on a mission trip before, they were intrigued by the prospect and decided they wanted to help spread God's word by doing His work.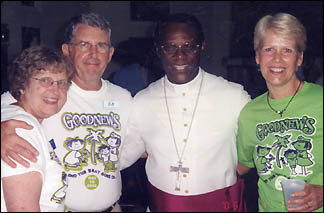 "You preach in a lot of different ways," said Dana. Because most of the population of St. Lucia is already Catholic, the Spates' goal was not to convert islanders but to help with humanitarian aid and to learn something in the process, Dana said.
Dana (right) posed with the bishop of St. Lucia and two other volunteers. Because the island is predominately Catholic already, their mission focused on humanitarian aid.
The Spates learned that people are essentially the same, with the same needs and wants, regardless of where they live, and that people can be truly happy, in spite of leading difficult lives. The people of St. Lucia were always cheerful, said Dana, and they were very grateful for any help they received.
Ken was amazed when he visited the Dunnottar School for mentally and physically handicapped boys and men and learned that their methods were very similar to the methods he and his staff use to help the handicapped back home in Minnesota.
The Spates also learned that even the smallest gesture, the kind often taken for granted at home, can make a huge impact on the lives of some people. One such gesture really stood out for Ken. Before leaving for their mission trip, the Spates accepted donations of money for Good News.
They used some of the money to buy a weedwhacker for a woman who used it to get a job to support her family, said Ken. He considered the gesture a "hand up," not a "hand out," because the small investment gave the woman the ability to help herself and her family, hopefully for a long, long time.
This was the first overseas mission trip for the Spates, and they hope to repeat the experience in the future when they can afford to go again. In the meantime, they hope to continue doing God's work at home.
---
Contact the author at editor@paynesvillepress.com • Return to News Menu
Home | Marketplace | Community
---