Nearly 30 local students - both from the elementary and middle schools - presented the comic play, "Fairy Tale Bits and Bytes," last weekend in the school auditorium.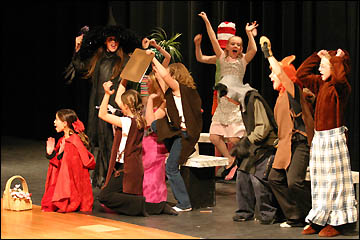 In the play, an evil computer virus invades the disk containing children's beloved fairy tales and nursery rhymes, causing confusion and threatening to permanently change the familiar stories. The virus causes all the story characters to be mixed together in the wrong stories.
The mini-theater featured kids from kindergarten to eighth grade.
For instance, the grandmother-eating wolf from Little Red Riding Hood calmly asks directions from a fearful pig, who mistakes this wolf for the one who wishes to blow down her house. Imagine Little Red Riding Hood's confusion when the wolf asks her about three little pigs instead of the way to her grandmother's house!
The heroes of the story were Bit and Byte, computer chips who try to set things right by defeating the computer virus before it infects other computers. Things look so bad, though, that help from the witch from Hansel and Gretel and the queen from Snow White is needed to spoil the virus.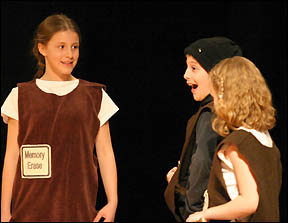 Bit and Byte and the other characters finally saved the day by confusing the computer virus with happiness, the one thing viruses cannot stand.
Bit (Lauren Spaeth) and Byte (Shelby Rolfhus) trick the evil virus (Matthew Anderson) into pushing his memory erase, saving the stories.
The audience - nearly 300 for the two shows, one on Friday night and the other on Saturday afternoon in the school auditorium - then helped sort the characters into their proper stories, restoring the familiar tales.
Community Education's mini-theater, directed again by Colleen Pelton and Sue Teicher, involved students from kindergarten to eighth grade. Interested students were auditioned and cast for parts on Monday, March 7. The students had eight rehearsals before
staging their play last weekend.
Below right: The witch (Kristine Hoeft) from Hansel and Gretel and the Queen (Kaitlin Burlingame) encounter an evil virus (Kellen Anderson) who plots to ruin fairy tales and nursery rhymes. Lurking behind is Bit (Patrick Hoeft).
Mini-Theater Cast of Characters
Fairy Tale Bits and Bytes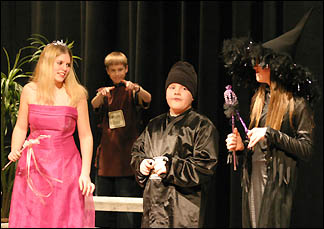 Virus 1: Kellen Andersen
Virus 2: Matthew Anderson
Red Riding Hood 1: Rachel McCloud
Red Riding Hood 2: Bayley Lahr
Byte 1: Susan Voss
Byte 2: Shelby Rolfhus
Bit 1: Patrick Hoeft
Bit 2: Lauren Spaeth
Goldilocks 1: Teirrah Syvertson
Goldilocks 2: Leah Wander
Pig-Eating Wolf: Jebb Davidson
Grandmother-eating Wolf: Paige Schmitt
Pig 1: Katelyn Hoeft
Pig 2: Taylor Buchta
Crabby the Dwarf: Anna Currens
Smiley the Dwarf: Avery Davidson
Silly the Dwarf: Wesley Ford
Queen: Kaitlin Burlingame
Witch: Kristine Hoeft
Peter Rabbit: Tyler Kortlever
Beanstalk Jack: Mackenzie Laughlin
Jack Horner: Tiffany Platow
Jack Hill: Matthew Rossler
Jack Be Nimble: Haley Thompson
Momma Bear 1: Kayla Soderberg
Momma Bear 2: McKenna Evans
Directors: Colleen Pelton and Sue Teicher
Stage Managers: Karla Leitzman

---
Contact the author at editor@paynesvillepress.com • Return to News Menu
Home | Marketplace | Community
---