Bill Deadrick, a 1988 PHS grad, awoke in May 2005 with pain in both his shoulders. Gradually, through the day, the pain got worse and worse. "It came on real slow one morning," he said, "and by 9 p.m. that night I was in the emergency room."

Eventually, Deadrick was diagnosed with brachial plexitis, an immune system disorder, probably the result of a minor viral infection. "My immune system overreacted and started to attack my body," he explained.

Deadrick, a heavy equipment operator in the construction field, lost what amounts to a full year of work due to the disease. At the height of his illness last summer, he was 90- to 95-percent paralyzed, and he did not return for light duty at work until October, just in time for winter layoff.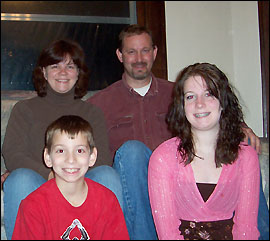 A benefit was held for Deadrick and his family in February at the Hilltop Tavern in Manannah. Deadrick grew up in Union Grove Township, near Manannah, and his parents still attend the Church of Our Lady in Manannah.
A benefit was held for the Bill Deadrick family - front, Derek, 9, and Amanda, 15; and, back, Kay and Bill - in February in Manannah, raising $11,000. The 1988 PHS grad lost a year of work to brachial plexitis.
Donna Anderson, the wife of Bill's cousin, and Becky Valiant, a family friend, organized the benefit, which served 300 meals. The response was "phenomenal," said Deadrick.
Anderson, who had helped with a benefit for the Topp family, knew the Deadrick family and their need and decided to organize the benefit with the help of Valiant. It raised over $11,000 for the Deadricks.
Seeing family and friends was the best part of the event for Deadrick. "I got to go around and talk to a lot of people I hadn't seen in years," he said. "I felt bad that I didn't get to talk to everyone, but that's what happens when there are 300 people."
Bill and his wife Kay want to thank all the businesses and people who supported the benefit and the organizers.
With his brachial plexitis last summer, his immune system attacked his nerve endings, eating the lining, causing a short in the wire, which the brain reads as pain.
"God, he was in extreme pain," said Kay.
Bill had to put ice packs on his shoulders when he went to bed last summer. "It was the only way to get (my shoulders) numb enough to get some sleep," he said.
He also lost his coordination and needed help to shower and cut his food. It took both his hands and intense concentration to lift a glass and drink, he said.
He could not drive last summer, but started to get over the hump last fall. He started physical therapy in February and must regain muscle mass lost due to inactivity.
This spring, he hopes to have full mobility and to regain his strength. He expects a full recovery, except for some loss of capacity in his right lung.
Deadrick lives south of Grove City with his wife Kay, daughter Amanda, 15, and son Derek, 9.
---
Contact the author at editor@paynesvillepress.com • Return to News Menu
Home | Marketplace | Community
---