Students get hands-on training at PAHCS
This article submitted by Michael Jacobson on 3/22/00.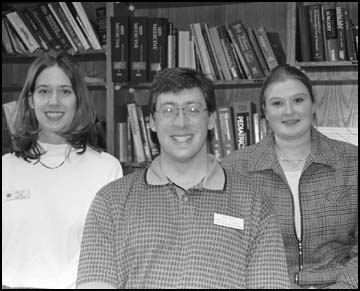 In addition to medical care, hands-on education continues at the Paynesville Area Health Care System (PAHCS).

This winter and spring, the session of the Rural Health School has four students in various fields of health care: Bob Berg (center), a third-year medical school student who is spending ten months here through the Rural Physician Associate Program; Holly Elg (left), a Pharm.D. student at the University of Minnesota; Malia Evjen (right), a senior social work student at the College of St. Benedict's; and Wendy Francis, a second-year medical laboratory technician from Lake Superior College in Duluth.

All four students are spending most of the week getting hands-on training in their respective departments. On Tuesdays, they meet together with Dr. Laura Odell, Pharm.D., the site coordinator for an interdisciplinary study of rural medicine.

This session of the Rural Health School started on Feb. 15 and will last until May 2. PAHCS has held two sessions of the Rural Health School per year for several years.

The participants
Berg started at PAHCS in October. He works mainly with Dr. Randy Zimmerman, seeing patients, getting practical experience, and learning the craft of family practice. On Wednesdays, he follows the surgeons to get credit for a surgery rotation. He will be in Paynesville until July, when he heads to the Twin Cities to complete his last year of medical school with more rotations.

Elg, who is originally from St. Cloud, is in her fourth year at the University of Minnesota's School of Pharmacy. She previously had done three years of undergraduate work. She is working with Odell and Todd Lemke, a Pharm.D. resident, in the clinic, hospital, and nursing home for ten weeks. She will graduate in May and hopes to have a postdoctorate residency in the Twin Cities next year.

"This is a great opportunity for pharmacy students because there aren't a lot of sites with direct patient contact like this," said Elg. "I tell people Paynesville is the most progressive place for pharmacy in the state."

Evjen is doing a social work internship under Lois Roback. Evjen, who is originally from Hayfield, will also graduate in May.

So will Francis, who is halfway through a five-month internship in the laboratory. Francis, who hails from North Dakota, is learning how to conduct the various tests in the lab, different blood drawing techniques, how to trouble shoot, and about quality control.

"For the size of the community, they do a lot of testing. They do tests that I didn't expect they'd do," said Francis.

The local Rural Health School has had medical students and Pharm.D. students in the past, but this is the first time for it to include a social worker and a medical laboratory technician. "We basically recruit whoever is in the community at the time," explained Dr. Odell, "and the schools try to send students out during this time."

The curriculum
In addition to touring and learning about PAHCS, the students have visited a battered women's shelter and a regional treatment center in Willmar, a Gold'n Plump factory to learn about occupational safety, and the Stearns County Public Health Nurses. Yesterday, they had a session with an agriculture safety specialist and they will be visiting a farm in the area to learn more about safety on the farm.

Dr. Odell said the purpose of the tours is to see "what kind of health systems exist and what sort of issues face people in a rural community."

The students also have to work together through case studies and a group project, bringing their different perspectives to focus on a common problem.

For their community project, this group will examine nutritional supplements among adolescents. Other studies in Minnesota have indicated that up to a third of students were taking a supplement to gain or lose weight.

"It's something we knew that hadn't been addressed in this community and we knew it had been an issue in other communities," explained Berg.

With sales of supplements rising, their study will focus on what is being used locally, why is it being used, and where adolescents are getting information about these products. Supplements, the Rural Health School students stressed, need to be used appropriately.

Their first step will probably be a student survey, in order to determine what is being used locally. Once that is determined, they will try to do some education of students with the goal of providing reliable information about the products. Correct use of the supplements is necessary, they said, for the desired effect to occur.

The Rural Health School students will present their community project to the medical staff and to the advisory board on May 2.

The benefits of the RHS
Having medical students learn and work at PAHCS helps the system in three ways, according to hospital system administrator Willie LaCroix.

First of all, the students aren't the only ones who learn by the experience. "The students are advanced enough in their studies that they might have good ideas, too," said LaCroix.

The students bring their book knowledge to the hospital and want to learn the craft of practicing medicine, whether that's in the laboratory or in an examination room. LaCroix said the question-and-answer dialogue with students was refreshing to staff and kept them on their toes. "I think in the end it benefits patient care," LaCroix explained.

Through the students, the system has computer access to the medical library at the university and an interactive television system. "I think we're on the cutting edge of technology because we're dealing with students from different modalities," said LaCroix.

Lastly, LaCroix said the Rural Health School helps the system recruit new providers. Paynesville is the smallest community in the state with a Rural Health School. When students have a positive experience as a student here, it helps the system through word of mouth, encouraging medical students at least to consider practicing here.

In addition to these benefits, PAHCS is reimbursed for its costs. The reimbursements come from a special state fund, LaCroix said, and not from the University of Minnesota's budget.
---