Pastor Hoyme leaves Paynesville Lutheran
This article submitted by Michael Jacobson on 3/22/00.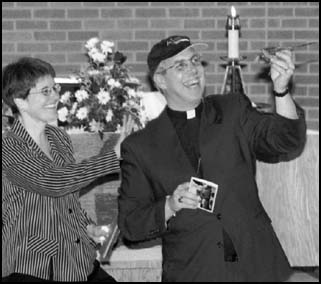 After 13 years in the pulpit at Paynesville Lutheran Church, Pastor Rick Hoyme had one last chance to make his congregation think, laugh, and cry at a special Sunday morning service. Pastor Hoyme has accepted a call to a Lutheran church in Chippewa Falls, Wis., and Sunday was his last at Paynesville Lutheran.

Sunday morning's service reflected several aspects of Pastor Hoyme's ministry. Perhaps the most prominent was the worship band, which plays contemporary Christian music. Pastor Hoyme helped start the group and played guitar and sang in it.

Mary Janotta, vice president of Paynesville Lutheran, laughs with Pastor Rick at one of the gag gifts presented to him on Sunday. Hoyme is holding a "Wisconsin pheasant," one much smaller than pheasants around here.

Pastor Hoyme also gave his last children's sermon in Paynesville using his plastic buckets, which he will be taking to Wisconsin. Normally, he would send the buckets home with a child each Sunday. Then, the next Sunday morning, he would speak extemporaneously on whatever the child put in the bucket.

"He is a great speaker," said Terry Skoglund, who joined Paynesville Lutheran during Hoyme's tenure. "When he gave a sermon, you never daydreamed. I think everyone was very attentive when he was speaking, and you always felt he was speaking from the heart."

For a sermon on Sunday, Pastor Hoyme reread the first sermon he delivered at Paynesville Lutheran in December 1986. In it, he talked of how relationships between pastors and parishes grow and how he hoped to build a loving, lasting friendship in Christ with the church and its members.

For many, that was accomplished during his 13 years. "There weren't too many dry eyes in church Sunday," said Skoglund.

She described Pastor Hoyme as a warm, caring person, with whom it is easy to talk.

LouAnn Rossler, the church secretary, said she had a good working relationship with Pastor Hoyme through seven years together at the church. His strengths, according to Rossler, were his easygoing style and his personable nature. He could converse with kids, teenagers, and adults of all ages.

"I think what made him a very popular pastor was his genuine caring for the members of the church and the community," Rossler said. Rossler added that Pastor Hoyme usually made her laugh every day at work.

On Sunday, it was the congregation's turn to make Hoyme laugh. After a formal presentation in which Pastor Hoyme returned sacred items to the church, a number of congregation members gave him gag gifts at the end of the service. Many of these gifts involved Hoyme's hobbies away from the church, like golfing, hunting, and boating on Lake Koronis.

Back to Wisconsin
Pastor Hoyme, and his wife, Diane, grew up in Wisconsin, each about 30 miles from Chippewa Falls. Since attending St. Olaf College and Luther Seminary in St. Paul, he has served three parishes. He spent three years in a three-point parish in Montana, four years in New Hope, and 13 years in Paynesville.

"It has been a wonderful place to raise our children and a community that's been a delight in which to live," he wrote about Paynesville in a devotional in the Press two weeks ago. "It will be the 'hometown' for our girls the rest of their lives, and we will be proud for them to call it that. We have made so many good friends here that leaving will be difficult at best."

The average length of stay for a pastor is only four years. Hoyme attributed his length of stay in Paynesville with his family's satisfaction with the community and the church, and, he hoped, the church members' satisfaction with him as a pastor.

"Only a call from God could lead us away from this good place," he continued in his devotional, "and this is what God has done for us." Pastor Hoyme will start his new duties as the senior pastor in Chippewa Falls at the beginning of April.

His friendships and dealings with people will be his strongest memories of the church and the community. Pastors, he said, have the privilege of sharing with people some of their most exciting moments in life, like marriage, and some of the saddest, like deaths.

Another memory of Paynesville Lutheran, he said, would be the fine music of the church.

Known for using stories from his previous parishes in his sermons, Hoyme said he would use stories from Paynesville to illustrate and illuminate the Gospel in Chippewa Falls. "But," he added, "the names will be changed to protect the innocent because the world is a very small place."

Growth of the church
During Pastor Hoyme's tenure at Paynesville Lutheran, the church attracted 563 new members. "We have grown tremendously in the past 13 years," said Peter Jacobson, president of the congregation. The church recently approved a $1 million remodeling and expansion project, which was needed, in part, to accommodate the expanding membership.

Skoglund said Pastor Hoyme was "probably the reason that I converted over from the Catholic church to the Lutheran church." He was very welcoming when she made the switch, she said.

"It's hard to make yourself available to every member of the congregation," said Rossler, "but he really tried."

Jacobson said the congregation will miss Hoyme's knowledge of the Gospel, his sermons and Bible teachings, his worship style, and his comforting and caring. He said Pastor Hoyme was not only a well-respected pastor in the church but an active member of the community.

Paynesville Lutheran will be served by a yet undetermined interim pastor for at least six months, according to Jacobson. A call committee was already established to replace Pastor David Glesne. Now that committee could call up to two new pastors.
---