Neu, O'Fallon named Lion's award recipients
This article submitted by Linda Stelling on 3/21/01.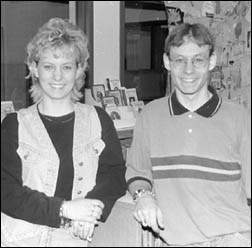 Seniors Jesse Neu (right) and Erin O'Fallon (left) were named recipients of the Lions Service Award recently.

The award is presented to seniors who have volunteered their time to help others in the community and at school.

"I was surprised at first upon learning I had received the award. I feel it was a real honor. I have done many things, but there are many other people I know who would also deserve this award," said Neu, the son of Don and Karen Neu.

Volunteering is important to him. "It gives me a chance to share my talents and knowledge with others. Through helping others, I help myself. Through the love and kindness of my family and friends, I have the need to give of myself for others," Jesse said.

He has worked at the Sharing and Caring Hands soup kitchen in the Twin Cities, performs at the Koronis Manor monthly, has worked on Habitat for Humanity projects in St. Cloud and Willmar, and goes caroling.

A member of St. Louis Catholic Church, Jesse helps with their annual Easter egg hunt, is a eucharist minister, volunteers at church dances, sings in the youth choir, and attended the National Catholic Youth Conference.

Jesse runs light and sound for school activities and the Knights of Columbus and is a member of the Tech Club, yearbook staff, pops choir, and Future Leaders of America.

He plans on attending Ridgewater College in Willmar next year.

"I don't have any particular memory from my service work. I have had many great experiences and to pick only one would be impossible," Jesse said. Through service work, he has met hundreds of people and made a ton of new friends. "I encourage everyone to do some service work. It can change your life," he added.

"I was very surprised when I found out that I had won the Lion's Service Award," said Erin, the daughter of Jim and Gretchen O'Fallon.

"Volunteering is important to me because it makes me feel good when I do things for others," Erin said.

Erin is a mentor for confirmation students at St. Louis Catholic Church, helps with vacation Bible school and at the church's annual Easter egg hunt. She is a religion teacher, helps in the parish nursery, and does decorating in the church.

She is a D.A.R.E. role model, and a member of Pals, Target Leadership, band, marching band, and pops choir. She also plays on the golf team.

She was also selected as the Paynesville American Legion Auxiliary Girls State representative.
---