Paynesville students experience German culture first hand
This article submitted by Linda Stelling on 3/21/01.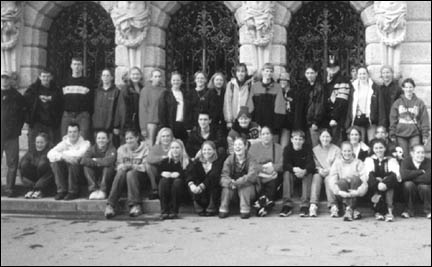 Swimming in an Olympic pool, attending school with their German hosts, and touring ancient cities were only a few of the things Paynesville students did on their recent trip to Germany.

Thirty-five students and two chaperones (pictured at right in front of the Linderhof Castle) spent 10 days in Germany experiencing the culture, foods and sites of the country. The students were gone from March 4 to 13.

The students came home with many stories. The students told about climbing the highest church tower in the world. The cathedral in Ulm has 768 steps. They also toured the city of Rothenburg with its dungeons, torture chambers, and medieval walls.

"It was a great group activity to experience Germany with your friends. Our family stay gave us an up close look at German life," said senior Ryan Flanders. "It was shocking to see in person the concentration camps."

The experience at Dachau Concentration Camp left many students speechless. They said the reality of the camp was hard to deny.

Joy Hemmesch enjoyed seeing the underground river at Blautof because it was the bluest water she had ever seen. According to her German instructor, Darrel Carstens, Blautof is the Venice of Germany, and the English translation for the river is "Blue River."

Transportation
Many of the students commented on the fact that there weren't many pickup trucks in German. Everybody rides the bus, walks, or bikes to where they are going. Carstens explained that gas in Germany was $3.80 per gallon.

The students found the streets in Germany narrow as they were built in the horse and buggy days. It was common to see drivers on sidewalks as well as the streets.

With cars all over the place, you had to watch your back when getting out of a vehicle, said JasonLeyendecker.

Travis Flanders said they saw more yield signs than stop signs. Mirrors were positioned at blind intersections to allow drivers to see if anybody was coming.

Lahr's host family took her on the autobahn, the German freeway with no speed limit. "They drive insane on the autobahn. I was glad to have a seatbelt," Lahr added.

"My host family had a hard time believing I owned my own car and drove it to school," Lahr added. Cyndi Bollman said her fellow students had a hard time believing she only had a three minute drive to school. In Germany Bollman had a 45-minute drive through five towns to reach school.

Leyendecker said he took three different modes of transportation to reach school in Germany: by car to the train station, then by train to their school bus stop.

German schools
Classes in Germany vary anywhere from 45 minutes to two hours. Most schools were out by 1:30 p.m.

Another change for the Paynesville students was having the teachers change classes instead of the students.

Leyendecker liked the idea of when the teacher doesn't show for a class, the students head to McDonalds until its time for the next class.

Bollman and Katie Wright went to an all-girls school. "In gym class, the girls wore jeans instead of shorts and didn't do anything. We played soccer with the teacher," Bollman said.

Bollman said the students were very disrespectful to the teachers. They were always talking during class and not listening to the lesson.

Kelly Fenske, a member of the Bulldog gymnastics team, attended gymnastics practice with her classmates. They did rythmatic gymnastics using ropes, hula hoops, balls, and ribbons. It was quite different from what Fenske was accustomed to and she found it difficult.

Family stay
Junior Joe Bertram said it was good for them to live with somebody else and see how they go about their everyday lives, including going to school with them.

Lahr agreed that it was great to experience how different families interact and how they accept an American into their lives.

According to Carstens, all the host families agreed they did not have enough time with the students, they felt the students should have stayed longer.

Jennifer Gully went kegling, a form of bowling with a smaller ball and only nine pins. Scott Buermann had the opportunity to do indoor go-cart racing with his host family.

Bollman's family took her skiing in the Alps. She had never skied on steep slopes before and she fell often. "I'd look back to where I had come and had a hard time believing I had just come down that mountain," she said.

A favorite night time activity of the students was visiting the disco. They found the German teenagers listened to a lot of American music

While in Germany, the students tried many new foods. Among them was spatzle, a homemade noodle covered in gravy or cheese sauce.

Another food the students liked was Kaiserhmarren, bit sized pancakes dipped into sauce.

Several of the students weren't too sure about eating liver dumpling soup or white sausage. Bollman said her host family ate a lot of bread and cheese with their meals.

Cartsens met with several teachers in Germany and they discussed the possibility of 20 German students coming to Paynesville for a stay.
---