Michelle Lahr named 1 of 8 dairy princesses
This article submitted by Linda Stelling on 3/17/98.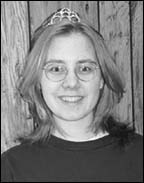 Michelle Lahr, Paynesville, was one of eight girls named a Stearns County Dairy Princess at the annual banquet March 7.

Twenty-six girls from Stearns County competed for the title. Retiring dairy princesses were Rochelle Jonas, Judy Holdvogt, Cheryl Koopmeiners, Carla Schaefer, and Sara Lieser.

Crowned as their successors were: Lahr, Paynesville; Sarah Blenker, Dana Shay, and Sonya Godringer, Albany; Pam Goebel, Freeport; Rochelle Jonas, Avon; Angela Judes, Sauk Centre; and Karen Kuechle, Watkins.

ďHaving 26 girls compete for the honor sends a positive message about dairy farming in Stearns County,Ē Corrine Lieser, ADA board member, said. ďStearns is the largest dairy county in Minnesota. We also have the most girls competing for the honor of being a dairy princess.Ē

The dairy princesses will be taking part in various parades throughout the county this summer as well as handing out ice cream and other dairy products at local banks, grocery stores and community functions. The eight dairy princesses will also compete on June 18 and 19 in St. Cloud for the Region 6 title.

ďThe coronation festivities and banquet were fun,Ē Lahr said about her new experience.

Lahr said throughout the coronation she kept speculating as to who would be crowned. ďWhen they said my name it took a few seconds for me to realize ďThatís me!Ē she said. ďI was really surprised at being selected as I thought the other girls really knew their stuff about the dairy industry better than I did.Ē

A senior, Lahr, 18, is the daughter of Richard Lahr and Luan Quaal. Her family farms 440 acres and has 80 Holstein cows.

Lahrís sponsor was Corner Drug, Paynesville.
---