Elementary school celebrates 'School of Excellence' honors
This article submitted by Linda Stelling on 3/17/98.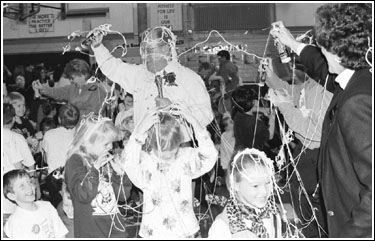 Excitement was in the air Friday as the Paynesville Area Elementary School students gathered in the gym for the School of Excellence Celebration.

After a year of work by the elementary staff, the school earned the designation ďSchool of Excellence.Ē Only three schools have received the recognition this year: Orono Primary School, Southview Elementary in Waconia and Paynesville.

ďThis award is earned by the entire school communityóthe principal, the school board, the teachers, staff, volunteers, students, and neighbors of the school,Ē Elmer Koch, Minnesota Elementary School Principal Association Executive Director, said.

The awards are given to schools where the principal, staff and community have demonstrated the desire to improve the quality of elementary education.

ďThe program gives the staff a chance to look at ourselves and decide what we like and what we donít like about the school, examine our education programs and our ways of teaching,Ē Heineman said.

Paynesville Mayor Jeff Thompson asked the students which came first...the chicken or the egg? He used the analogy to what comes first...an excellent school or excellent community...they go hand in hand, Thompson stressed.

ďThe future looks bright for Paynesville because of the outstanding job the teachers and staff do at the school,Ē he added.

Representative Doug Stang and Senator Michelle Fischbach presented Elementary Principal Gary Heineman with Senate and House Resolutions congratulating the school on achieving the School of Excellence honor.

Cheryl Colbert, an instructor, asked the students what was so marvelous about the school? The students replied it was the teachers, library, playground, and artists which came to the school to work with the students.

At the end of the program, Mary Stock, fifth grade teacher, presented a slide presentation showed the different grade levels as a class in school and busy with various activities.

Following the program, refreshments were served to the elementary students to celebrate the honor.
---