Lenten luncheons offer spiritual message
This article submitted by Michael Jacobson on 3/17/99.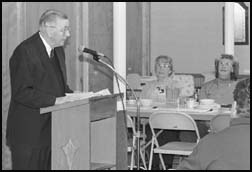 During this Lenten season, Grace United Methodist Church has offered soup, sandwiches, socialization, and a spiritual message at its noon luncheons.

Every Wednesday, the church has a Soup and Sandwich Luncheon from noon to 1 p.m. A volunteer group from the church serves the lunch, including a dessert, from noon to 12:15 p.m. A freewill offering is collected to cover the cost of the meal. Then, at 12:30 p.m., the program begins with a prayer and a hymn. The speaker talks for about 15 minutes, and the luncheon is over before 1 p.m.

This year, the series is focusing on the "I am..." sayings of Jesus, as quoted in the Gospel of John. Ministers from local churches have taken turns each week in explaining a saying of Jesus. "It's really an exploration of who Jesus is to us," said Linda Jensen, director of youth and family ministries at Grace United Methodist.

Father Richard Leisen of St. Louis Catholic Church started on Feb. 17 with "I am the door." In the following weeks, Pastor Rick Hoyme of Paynesville Lutheran Church spoke about "I am the bread" and Pastor Roger Johnson of Crystal Hills Assembly about "I am the light." Last week, Pastor Allan Lindh of Calvary Baptist Church was an emergency replacement for Pastor Bart Fletcher of Hawick United Methodist Church.

Today, Pastor Rich Hubert of the Evangelical Free Church will speak about "I am the way, the truth, and the light." The series will end next week with Pastor Keith Ainsley explaining "I am the Good Shepherd."

The luncheon series started last year. Pastor Ric Koehn of Grace United Methodist and Jensen were discussing what they could offer to the community for lent when Jensen suggested these luncheons, which were a tradition at her previous church.

Last year, the series focused on faith and vocation. Community members spoke on ethical issues in the workplace and their individual efforts to live like a Christian. "I think it opened the eyes of a lot of people to think about the issues business people face daily," said Jensen.

"We don't leave our faith on the doorstep of the church," she continued. "We carry it with us into our work, our homes, and our play. We live it."

Jensen said the topic and the witness by community members got the luncheon series off to a memorable start last year. It is still going strong, averaging 75 people over the first four weeks this year.

A main benefit of the series is the ecumenical nature. Jensen estimated that half of the audience normally is from Grace United Methodist and the other half are members of other churches.

"We have such a wonderful community," said Jensen, "and people's lives are intertwined in so many ways. I think it's important that we share our oneness in Christ."

Pastors Lindh and Hoyme both spoke at the series and praised it being ecumenical. "I mentioned when I spoke that it was a good way to get the community together," said Lindh.

"It really reflects our culture," said Hoyme, noting that marriage between different churches is becoming increasingly common. "Our society is much more blended."

Jensen said she thought people enjoyed hearing pastors from other churches.

"I did feel I wanted some spiritual uplifting during this Lenten season," said Vicki Jenniges, "and it's just a good time to fellowship with other people."

Marcella Frank and her husband, Vern, who have missed only one luncheon in the two years of the series, agreed with Jenniges. "It's good to get out and mix with people from other churches," she said.

The luncheon is designed to be time efficient. "We wanted to offer something convenient," said Jensen. "So people could eat, and get back to work on time and still get some spiritual food."

According to Jenniges, who attends during her lunch hour, the series succeeds. "I come back to work feeling recharged," she said.

The noon time also provides a Lenten worship opportunity for anyone not wanting to drive or go outdoors at night.
---