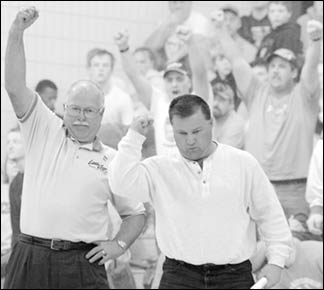 Ask Hall of Fame wrestling coach Virg Vagle about the four state titles his Paynesville teams have won, about the nine individual state champions he has coached, about the 17 teams that he has guided to the state tournament, or about his 661 career victories (second in state history), and he'd tell you that the credit belongs to the entire program, especially all the wrestlers that he has coached in 38 years.

Wrestling coaches Virg Vagle and Steve Fuchs react after a victory at the Section 6A individual tournament in February. Vagle and Fuchs announced to the wrestling team in January that the 2003-04 season would be their last as the varsity coaches. Vagle has been the head wrestling coach since 1966-67. Fuchs, the Bulldogs' first individual state champion in 1979, has been Vagle's assistant coach since 1987. In the past 18 years, they have led the Bulldogs to four state titles: 1987, 1990, 1991, and 2000.

He'd probably point out that he has not recorded a single pin, has not earned a single takedown, has not scored a single point.

Vagle would share the credit for the success that Paynesville wrestling has enjoyed, especially over the past 28 years, when the Bulldogs have reached the section finals 25 times and made 17 trips to state. (The Dogs made two trips to state in the 1970s, seven trips in the 1980s, six in the 1990s, and two since 2000. They won Class A state titles in 1987, 1990, 1991, and 2000. In 17 state trips, the Dogs sport an overall record of 34-17.)

He'd talk about his wrestlers, reveling in their success, on and off the mat; he'd talk about the parents and fans that have supported his teams; and he'd talk about the invaluable contributions made by his assistant, junior high, and youth coaches.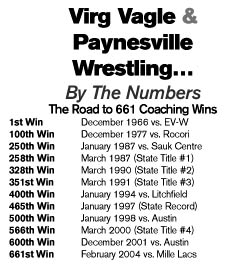 "I'm just one person in a wrestling program," Vagle would say.
"I've never won a match. It's the wrestlers this year and all the previous years that have accomplished all that we've done," he'd add.
This year, even more attention has been focused on Vagle, since he and longtime assistant coach Steve Fuchs announced to the team in January that this would be their last season as the varsity wrestling coaches for Paynesville. Together, Vagle and Fuchs have led the Bulldogs to four state titles in the past 18 seasons.
It was a tough decision to quit, said Vagle. "You don't really want to give up something that's been such a big part of your life," he said.
Having made the decision to quit, though, Vagle is convinced it is the right one. He is looking forward to supporting the wrestlers and the next coaching staff as a fan, instead of the time-consuming responsibilities of coaching.
Fuchs thought about quitting after last year, wanting to have more time to watch his son Zach, a seventh grader, play basketball. But Vagle, and Zach, convinced him to coach one more year, he said. "This year just got to be the right time to step down," said Fuchs, who noted that he and Vagle had talked about retiring from coaching together for the past three or four years.
When they announced their retirement, Vagle didn't expect the ensuing volume of media attention, including articles in the West Central Tribune, the St. Cloud Times, and the Star Tribune and coverage on television news. The news coverage, while nicely done, was more attention than he deserved, said Vagle, who was inducted into the Minnesota Wrestling Hall of Fame in 1990.
Coaching Wrestling?
Save practice, Vagle has never personally recorded a competitive pin or victory in wrestling at all. While Fuchs helped the Bulldogs to their first state tournament in 1977, became Paynesville's first-ever state champion in 1979, compiled a career record of 120-16-3, and held the career victory mark in Paynesville for 12 yearsÉ his coach never wrestled. Vagle captained his high school basketball team; his high school did not even have a wrestling team at the time.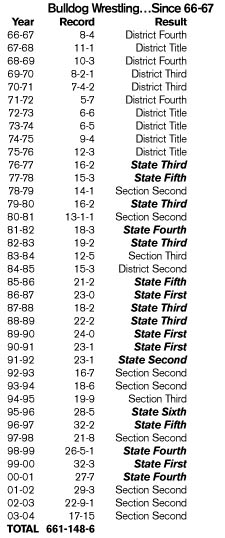 Vagle continued to play football at Augsburg College and took a teaching job - mathematics and physical education - at the middle school in Paynesville after graduating in 1965. He was an assistant coach on the three-year-old wrestling team for one year before becoming the head coach in 1966.
Former Paynesville athletic director Jim Loomis, also a Hall of Famer, has said that convincing Vagle to take the wrestling job was one of his best moves in 34 years in the Paynesville school system.
Vagle studied wrestling, reading books, attending clinics, and built the Paynesville program and tradition, but with lots of help.
The Bulldogs had a combined record of 17-26-2 in four seasons before Vagle became the head coach. But, in 1965-66, the year before Vagle took over as head coach, they went 10-2-1 and won the conference title.
The Bulldogs won conference dual titles the first four years with Vagle as head coach. In his 38-year career, his teams won conference titles 29 times, including an 18-year unbeaten streak in conference duals from 1975-1993 (113 dual matches).
In 1969, Doug Bork became the first Paynesville wrestler to make a mark at the state level, taking sixth place at state, which at that time was a one-class tournament. Pat Neu, who later became a Big Ten champ for the Gophers, then placed three straight years at state in 1970 (fifth), 1971 (third), and 1972 (third).
The Bulldogs, as a team, did not make their mark at the state level until after 1975, when Minnesota switched to a team format in wrestling. That is, team duals were used for playoff matches, rather than counting points in an individual tournament, as collegiate wrestling still does.
In 1976 wrestling was divided into two classes, and in 1977 the Dogs upset St. Michael-Albertville, ranked #1 in the state, in the section finals to qualify for state for the first time. Fuchs, who placed third at state that year, was one of the standouts on that first state team. In 1979, he became Paynesville's first state champion, winning the title at 119.
Always sportsminded, Fuchs did not start wrestling until the third grade. He did not lose a match in youth wrestling until seventh grade.
Actually, if Paynesville would have had high school hockey at that time, Fuchs probably never would have wrestled in high school for the Bulldogs. Hockey was his first love, he said, and he continued to play hockey in the winter, too, until his senior year.
Getting to State
During the individual-based competition, team's standings at regions and state depending solely on having elite wrestlers who could place at the region and state level. But, under the team concept, depth became important.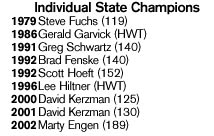 Vagle realized immediately that team's would only be as good as their weakest links and therefore stressed depth.
In the late 1970s and early 1980s, Paynesville's depth helped the team get to state five times, but they could never win a title, state powers Canby and Staples still had enough elite wrestlers to beat the Dogs in close matches, said Vagle. The Bulldogs had one of their best teams in 1986, said Vagle, who lists that team as one of their near misses, a team good enough to have won a state title (along with the teams in 1989, 1992, and 1997). But, in 1986, Canby and Staples also had two of their strongest teams, and the Bulldogs lost in the opening round in a close match to Staples and took the consolation title as Canby won a state title.
First State Title
The next year, in 1987, the Dogs broke through, winning their first state title. That year, said Vagle, Paynesville's elite wrestlers were able to win match-ups against other teams best wrestlers.
In the mid-1980s, Vagle asked Fuchs to come and help at practice in January when military commitments forced then assistant Bob Bowden to miss practice for a couple weeks. Then when Bowden resigned from wrestling coaching before the 1987 season, Vagle asked Fuchs to be his assistant.
Among Vagle's greatest strengths have been his organization, his ability to motivate his team, his focus on wrestling fundamentals and hard work, and his emphasis on the team.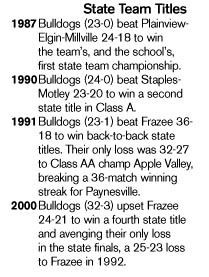 "I've never seen a person who could pump up a team so much before a match," said Fuchs of Vagle's motivational powers. When he first started coaching with Vagle in 1987, Vagle's pregame speeches would make Fuchs want to put on the tights and wrestle again himself.
One of Vagle's best speeches, said Fuchs, was before the Bulldogs upset Frazee for their fourth state title in 2000. That year, the Bulldogs beat #4 Pierz in the section finals, and #3 Canby, #2 St. James, and #1 Frazee at state. Vagle got the team to believe they could win, said Fuchs. Winning wrestling takes practice and discipline. Wrestlers need to learn their skills through hard work and practice.
Wrestling is not always fun, noted Vagle. No one "plays wrestling" like they might "shoot hoops," but dedication and work ethic is rewarded when wrestlers prove to themselves what they can really do.
Vagle uses weight cutting, which is often criticized, as an example. While he admits that it can be approached incorrectly, he feels it does illustrate the discipline and dedication that wrestlers use to become successful in their sport.
They also must condition themselves. No sport, save marathon running, requires competitors to be in better shape, according to Vagle. Everybody wants to win, Vagle said. But do you want to win enough to prepare yourself to win, he asked.
Learning to Lose
While Paynesville has always focused on team success, each wrestler experiences winning and losing on an individual basis, too. Each wrestler goes out on the mat alone and only has himself to credit or to blame for a win or a loss.
Since everyone will lose at some point, a key to successful wrestling is learning how to handle losing.
Vagle taught them that "it's better to give 100 percent and lose than not to try at all," said Pat Meagher, who wrestled for Vagle for four years, including on state teams in 1977 and 1978. Sooner or later, you were going to lose, so you had better learn to be a gracious loser, said Meagher.
Vagle also got involved with every wrestler on the team, added Meagher, who used to wrestle against Fuchs in practice. Vagle did not play favorites and paid attention to everyone, not just the stars. He always stressed that everyone on the team had a role, whether their job was to get a pin or to keep from getting pinned, said Meagher.
Vagle learned lessons about handling athletes from his own playing days. From his own coaches, Vagle said he learned the importance of being positive and supporting all the team members and also the importance of having high expectations and lofty goals.
Fuchs agreed that having a good rapport with the kids was a key to the successful wrestling program. Wrestlers were willing to make sacrifices for the good of the team. There's no "i" in "team," he noted.
Three Accomplishments
Of all the wrestling victories recorded by the Paynesville program during his tenure, Vagle is most proud of three things.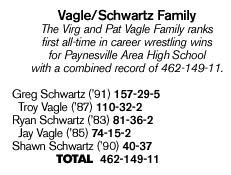 First, that Paynesville wrestling was able to maintain its status as an elite wrestling program for 30 years. In the last 28 years, for example, the Dogs have reached the section final 25 times and earned 17 trips to state. Only three schools in the state have more trips to the state tournament in wrestling since 1975 than Paynes-ville: Apple Valley (23), Canby (23), and Staples-Motley (18).
"Your goal is to be the best you can be," explained Vagle. "We reached that top echelon, and we extended it over a number of years."
Even in the few years that the Bulldogs did not reach the section finals, they still were at the elite level. The Dogs have beaten an eventual state champion during the regular season four times, and in three of these years, the Bulldogs did not qualify for state themselves. Second, the Bulldogs have won four state titles. It's everyone's goal to reach the top, and reaching that goal was tremendously elating, said Vagle. Again, only Apple Valley (13), Canby (7), and Staples-Motley (7) have more state titles than Paynesville in wrestling since 1975. Third, Vagle is proud that the Dogs have done all this, amassed 661 wins, while wrestling a tough schedule. One year, the team wrestled 15 state-rated teams. Another year it wrestled eight of the ten ranked teams in Class AA.
Starting in 1990 and 1991, during their two-year run of state titles when they were ranked nationally, the Bulldogs had trouble scheduling matches and found themselves making more and more trips to the Twin Cities to find tougher competition. This made the Bulldogs a better team, said Fuchs, as wrestlers learn more by wrestling close matches, even losing, than winning easily.
Lifelong Lessons
The lifelong lesson that Vagle wanted to instill in his wrestlers was the pursuit of excellence. While proud that the wrestling program accumulated 661 career wins, 17 state trips, and four state titles during his watch, Vagle recognizes that wrestling is just a sport. He never felt that wrestling was the most important endeavor, but in choosing to do it, both he and all his wrestlers committed to doing it to the best of their ability.
Whether you sing in the choir, play piano, or work at a job, your goal should always be to be the best at whatever you do, said Vagle.
That's why his greatest satisfaction is the relationship he has developed with his wrestlers over the years. He treasures the Christmas cards he still gets from his former wrestlers and relishes the role that wrestling has played in the lives of his former charges.
That's especially true for some of his athletes that faced challenges in life at early ages. While some of the most successful wrestlers in school history might have succeeded in wrestling, and in life, no matter who was their wrestling coach, Vagle is especially proud that the wrestling program has given a taste of success to many other wrestlers, some of whom might not have stayed in school but for the sport.
Bork - the Bulldogs first state placewinner in wrestling and still a Paynesville resident - credits Vagle with that kind of impact on his life. Bork said he wanted to quit wrestling, and school, as a ninth grader, but Vagle convinced him to stay, convinced him that he would become a good wrestler. "Because of him keeping me out for wrestling," said Bork, "I stayed in school."
Without wrestling, Bork preferred working on the family farm to school. Instead, he stayed in school, built his confidence through success in wrestling (placing sixth in state as a senior), and attended junior college, where he wrestled and met his wife of 35 years.
Without Vagle as his coach, who knows how his life would be different, said Bork.
State Records
Vagle broke the state record for career victories in 1997. He has since been passed by Bill Sutter of Goodhue and will retire as Minnesota's second winningest coach, with a career record of 661-148-6. But he won't stay in second place for long; soon Owatonna coach Scot Davis will pass him, too.
That's fine with Vagle, who thinks that records are made to be broken. It's part of competing. Athletes should strive to do their best, and coaches should help.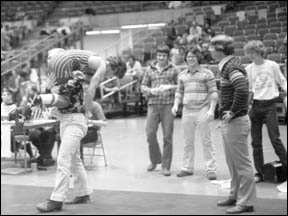 Helping kids and close, nail-biter matches are what Fuchs will miss from wrestling coaching. What he won't miss are the long bus trips and the team's half dozen Saturday tournaments.
Besides wrestling, Vagle was the head football coach in Paynesville for 30 years, leading the Bulldogs to the state semifinals in 1979 (where they lost to Apple Valley) and coached junior high baseball for more than 20 years. He retired from teaching in June 2000, just months after the Bulldogs won their fourth state title.
In 1978 head coach Virg Vagle lifted Steve Fuchs, then a junior, in celebration after Fuchs scored a late takedown to win his third-place match at state, 4-3. In 1977 and 1978, the Bulldogs wrestling team made their first trips to state, with Fuchs as one of the team's standouts. Fuchs placed thirds at state in 1977 (at 98) and 1978 (at 112) and won the school's first state title by claiming the individual championship at 119 as a senior in 1979.
That might have been a logical time to quit coaching, too, but neither Vagle nor Fuchs was ready to retire. But since 2000, Vagle has found coaching to be more time-consuming, since he no longer works in the school building. He also found that his interactions with his wrestlers were more one-dimensional. He no longer knows the wrestlers from class, from seeing them in the halls, and feels that he knows less about his wrestlers and their personalities.
Since 2000, Vagle and Fuchs have made their decision - to keep coaching or to retire - on a year-to-year basis. Last fall, they agreed it was time to retire; the 2003-04 season would be their last, they told their team in January.
Vagle feels blessed to have worked for 30 years with two long-time assistants, first Bowden and then Fuchs, who have both excelled at the technical aspects of wrestling. (Paynesville's program also has enjoyed coaching consistency in junior high, too, with coaches such as Scott George and Don Skjonsby serving over 20 years each and Tim Woehler and Ron Fuchs serving more recently.)
Fuchs is thankful to Virg for asking him to coach, to his family for allowing him to coach, and to his employer, EBO Farms, for allowing him to be flexible in his work hours to allow him to coach. (When he started coaching in 1987, Fuchs was a farm manager for EBO Farms. Now he is a farm supervisor, managing nine turkey farms in the area.)
Though the Bulldogs lost in the Section 6A finals this year to Pierz, who went on to win the Class A state title, made their last coaching appearance at the state wrestling tournament in March, trying to help Paynesville's six individual entrants to place at state.
Senior Matt Kerzman placed fifth at 152, winning the last match of his high school career and giving Vagle and Fuchs a final win to end their coaching careers.
Fuchs is thinking about becoming a wrestling referee next year. Vagle plans to do more traveling now that he has retired from coaching. Next year, during wrestling season, Virg and Pat Vagle and Steve and Cindy Fuchs plan to travel to Mexico together, instead of gracing the sidelines of the PAHS wrestling mats.
---
Contact the author at editor@paynesvillepress.com • Return to News Menu
Home | Marketplace | Community
---