Thirty-seven local students presented two plays over the weekend through Community Education's mini-theater. Students presented "Wishing You Were Here" and "If the Shoe Fits" on Friday night and Saturday afternoon.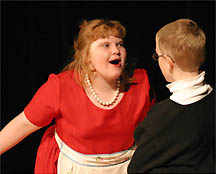 "Wishing You Were Here" was a short play about a school for future fairy godmothers. One young fairy gives a lonely girl everything she wishes for - peace between her parents and bringing her friend back from Alaska - but neither wish works out. In the end, though, their friendship gives the girl everything she wanted anyway.
Mom (Leslie Rossler) yells at Dad (Tyler Korlever) during "Wishing You Were Here." Having her parents stop fighting is one of the wishes that a young fairy-in-training grants a lonely girl in the play.
The second play was "If the Shoe Fits," a spoof of "Cinderella" with the prince being kidnapped by a local gang and with Cinderella having to get the limousine home by midnight or the driver would get time and a half. When the prince proposes to Cinderella in this play, she says no, and they decide to go to college together first.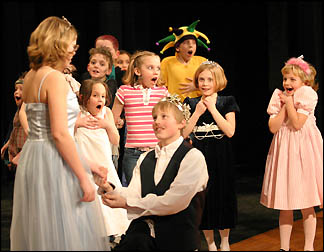 The plays were directed by Colleen Pelton and Sue Teicher.
Prince (Jared Eickoff) proposes to Cinderella (Kaitlyn Burlingame) at the end of "If the Shoe Fits," a spoof of "Cinderella" and one of two plays presented by the Community Education mini-theater over the weekend.

Cast of Characters
Wishing You Were Here:
Fairy Teacher: Taylor Hendrickson
Mary Fairy: Bailey Gray
Carrie Fairy: Ivy Nelson
Terry Fairy: Emma Mogard
Holly Fairy: Taylor Buchta
Julie: Kristine Hoeft
Sam: Devon Savage
Mom: Leslie Rossler
Dad: Tyler Kortlever
Susie Fairy: Anna Mogard
Emma Fairy: Chantil Hacklander
Amy Fairy: Leah Svoboda
Wanda Fairy: Leah Wander
If the Shoe Fits:
Town Crier: Mason Marshall
Nic: Aly Schultz
Prince and Fake Prince: Jared Eickhoff
Irene: Paige Friederich
Crystal: Shelby Rolfhus
Bridget: Avery Davidson
Zelda: Randi Lemkuhl
Jester: Anthony Poepping
King: Erin Guzy
Queen: Caitlin Lien
Miss Schiffermaker: Rachel McCloud
Valda: Karla Leitzman
Varina: Baylee Lahr
Cinderella: Kaitlin Burlingame
Stella: Teirrah Syvertson
Della: Susan Voss
Stepmom: Allison Poepping
Fairy Godmother: Taylor Haag
Python: Kellen Andersen
Weasel: Matthew Andersen
Squint: Joey Christenson
Scrap: Hudson Gray
Grunge: Jebb Davidson
Munch: Bryce Savage
---
Contact the author at editor@paynesvillepress.com • Return to News Menu
Home | Marketplace | Community
---