Hubert "Hub" Schwandt, a POW for 29 months and 27 days during World War II, died last week at the age of 83.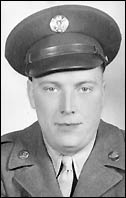 Schwandt, a 1939 PHS graduate and lifelong Paynesville resident, worked as a mechanic, as a postal carrier, and owned Schwandt Sanitation following his World War II service.
After growing up in Paynesville and graduating from high school, Schwandt was drafted into the army in 1941, before the Japanese attack on Pearl Harbor and American entry into World War II. He served in Company C of the First Armored Division of the Sixth Infantry and participated in Operation Torch, the joint invasion of North Africa by the United States and Great Britain in the fall of 1942.
Schwandt was captured by the German Army in December 1942 near Tunis. He was taken by the Germans first to Sicily, then to Italy, and eventually to Germany.
He once described being a prisoner of war (POW) as hell. In Sicily, Schwandt and other prisoners were held for four days without food or water in a dungeon. At night, the prisoners would take turns sleeping in order to keep the rats off their sleeping comrades.
In Italy, Schwandt lost over 100 pounds in 56 days, going from 225 pounds to 119 pounds in less than two months.
When Italy surrendered in 1943, Schwandt was released, but he was recaptured by the Germans 25 days later and moved to stalags (prison camps) in Germany for the rest of the war. He lived in eight stalags during the last two years of the war. "One time, 10 or 12 of our guys hid out in an old incinerator," Schwandt recalled in a Veteran's Day speech in 1988. "Nobody would tell where they were hiding, and the Germans were getting tired of our protecting their location. They lined all of us up against the wall. They counted out every 10th man and made him turn toward the wall. If the first man didn't tell where the prisoners were hiding, he would be shot - then they would go to the next 10th man in line - until he told or he was shot. I was one of the 10th men lined up, but, luckily for me, somebody told where our friends were hiding before they got to me, or I wouldn't be standing here today."
Prisoners would walk around and talk to try to keep from thinking about food, Schwandt once recalled. People in America may think they are hungry, he said, but the craving for food drove the half-starved prisoners crazy.
Finally, in 1945, the Soviet Army started advancing into Germany, and Schwandt and the other prisoners were moved west to avoid the advancing Soviets.
Schwandt was finally freed in May 1945. "One of the prettiest sights I ever saw was when the American troops came to free us - the troops came marching in waving the American flag. The American flag has always been a symbol of freedom throughout the world, but it had special meaning for me that day," Schwandt recalled in 1988.
After returning to Paynesville, Schwandt worked for 14 years as a mechanic and for 25 years as a postal carrier. He also owned and operated Schwandt Sanitation from 1970-1985. This garbage-collection business operated routes in Paynesville and several neighboring communities. The business also operated the Paynesville Landfill, which was opened in the mid-1970s after the Paynesville city dump was closed by the Minnesota Pollution Control Agency. (The Paynesville Landfill was eventually closed by the MPCA in the 1990s.)
Schwandt was a member of the Paynesville American Legion, the Paynesville VFW, and the Central Minnesota Chapter of Ex-POWs. He organized the first VFW drill team in Paynesville and served for 35 years as the sergeant at arms.
In 2002, the Paynesville American Legion honored Schwandt with a lifetime membership in honor of his service as a POW.
Schwandt and his wife, Delores, had six children, 14 grandchildren, and 12 great-grandchildren.
---
Contact the author at editor@paynesvillepress.com • Return to News Menu
Home | Marketplace | Community
---