Don't expect any pyrotechnics when Great White plays at the County Line Bar in Regal on Saturday night.

Fireworks in the rock band's show have been replaced by 100 seconds of silence, one second for each victim in the club fire in Rhode Island just over a year ago. That tragedy in February 2003 killed 100 concertgoers and injured another 200 at a Great White concert.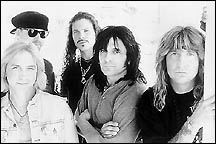 Now, the five-member band from Southern California best known for their hit song, "Once Bitten, Twice Shy," is coming to Regal on Saturday, March 20, as part of a benefit tour where their concert proceeds go to the victims of that disaster. "We'll tour as long as we can," said Great White founder and lead singer Jack Russell. "I like to play every night. It's just a way to remember our friends."
Touring, and donating the proceeds to a victims' charity, "just seemed the right thing to do," said Russell. "There are so many people that are suffering. What can we do? The only thing I know how to do is play music. It really helps the healing process."
In 2003, the band played 41 shows as part of the benefit tour and raised over $70,000 for the victim's charity, called the Station Family Fund, since the club in West Warwick, R.I., was called the Station.
This year, the band hopes to play as much as possible, said Russell. They started in March and hope to continue throughout the year, most likely taking a couple months off during the summer.
Great White, a blues-rock band named after the famous shark, was formed by Russell in 1978. They hit in 1984 with the self-titled album "Great White," which led to tours with Whitesnake and Judas Priest. Their hit tracks in the late 1980s include "Rock Me," "Lady Red Light," "Save Your Love," and "Once Bitten, Twice Shy," a top five hit.
Russell does not discuss details of the tragic fire 13 months ago, which started from a pyrotechnics display that, according to news reports, engulfed the soundproofing foam behind the stage and spread quickly. Both the club owners and the band's former tour manager face criminal charges stemming from the fire, while Russell was cleared by a Rhode Island grand jury.
"Something of this magnitude, you cannot express the horror or grief in words," said Russell. Among the victims of the blaze were Great White's guitarist Ty Longley, who played with the band for three years. Russell lost two close friends, who had come to hear his band play and were in the audience.
Since the tragedy, Russell is grateful for the outpouring of support for him and the band. He said he has literally received 10,000 e-mails of support. "Without their support," he said of the band's fans, "I probably wouldn't have got on stage again."
The fans, he said, restored his faith in humanity.
"I'm glad we're still playing," he said. "I'm glad we're helping."
---
Contact the author at editor@paynesvillepress.com • Return to News Menu
Home | Marketplace | Community
---