Rausch earns AAA Award nomination
This article submitted by Michael Jacobson on 3/15/00.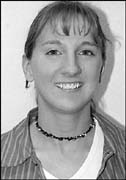 Paynesville Area High School senior Tiffany Rausch was selected as the local nominee for the Academics, Arts, and Athletics (AAA) Award this year.

The award is meant to honor well-rounded students for their performance in all three areas. Teachers and staff from all three areas meet to nominate the local winner, who then advances to district competition against the other schools in District 20.

"I was surprised (to be the local nominee)," said Rausch, "because there are a lot of well-rounded female athletes and musicians in our grade. I was curious to see who would get it because there are so many who would qualify for it."

During the selection process, Rausch quickly emerged as the female nominee, but for senior males, it wasn't as easy. While there are excellent athletes, students, and artists in the grade, "we didn't have anyone who was outstanding in all three," said Kyle Nehowig, activities and athletics coordinator.

"We didn't nominate a boy because we felt you had to be very qualified," he added. Two other schools in District 20 also did not nominate a male representative.

Rausch's qualifications include ranking fifth in grade point average in a class of 111, being captain in three sports and placing in state in track, and playing trombone in the concert, marching, and pep bands.

For district competition, Rausch had to complete an application listing her activities, write an essay, and get a letter of recommendation.

A banquet was held for all the representatives from District 20 schools in Kimball in January. Tiffany attended with her parents, Kevin and Pat, and Nehowig. Each candidate spoke before the group, and many, like Tiffany, read their essay.

The District 20 winners, announced later, were Brady Toops of New London-Spicer for the boys and Alison Zylstra of Annandale for the girls.

In her essay, Rausch stressed how being a well-rounded, active person in high school had given her self-discipline, organization, and time-management skills. She feels these skills will help her next year when she attends college at the University of Wisconsin-Eau Claire.

"I never thought I was very musically talented," she said of the lessons she learned from high school band, "but it showed me what I could do with a little practice. I know a little more about music, and I understand a lot more about the arts than if I hadn't been in band."

Band director Bryan Mara, who wrote her letter of recommendation, described Rausch as a great person with a big heart and a bright future. "She works hard and is dependable," he said. "She's a good role model for the younger kids."

Rausch's community activities and role modeling include her involvement with the youth group at St. Louis Catholic Church, being a three-year member and secretary of the student council at school, being a mentor and D.A.R.E. role model at school, and serving as a Special Olympics and Camp Friendship volunteer. She was given the service award last fall by the Paynesville Lions Club.

Academically, Rausch should graduate with summa cum laude honors, and she is a member of the National Honor Society. She spends over 10 hours a week as a peer tutor and a math aide.

Athletically, she has participated in cross country, basketball, and track. By the end of her high school career, she will have earned 11 letters in those sports. So far, she has earned All Conference honors three times in cross country and three times in track.

She qualified for state track in two events as a sophomore and was sixth in the 400-meter run. She set school records in the 400-meter run, both indoors and outdoors, that year. She helped set the school record in the 4 by 400-meter relay last year.

In band for four years, she earned superior ratings at contests as a sophomore and junior.
---