Taking an icy dip in March
This article submitted on 3/15/00.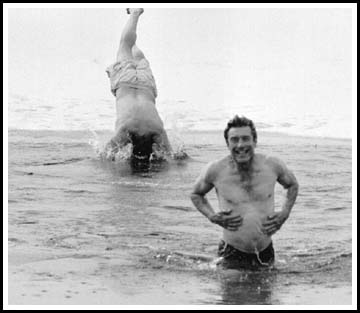 Chuck Koshiol wades to shore after taking his annual polar swim
in Lake Koronis Sunday afternoon. Diving into the lake behind Koshiol
is John Dahl. This is the 16th year that Koshiol has taken an icy dip
in Lake Koronis in March. Because of the unusually warm weather earlier
this month, the men had to canoe out to the ice this year
instead of cutting a hole near shore.
The earliest ice out recorded on Lake Koronis since 1962 is March 24, 1987.
---