Three receive Lions Youth Service Award
This article submitted by Linda Stelling on 3/15/00.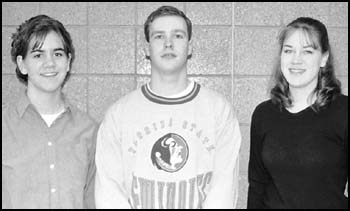 The Paynesville Lions Club selected three high school seniors to be recognized as their Youth Service Award winners this month.

Steven Gilk (center), Tricia Hemmesch (right), and Bridget Mueller (left) were selected because of their volunteer service to the community and to their school.

Steven Gilk is the son of Don and Diane Gilk. "I was surprised to receive the award. It is a great feeling to know that people appreciate the work you do for them," Gilk said. "Volunteering is part of my life. I think Boy Scouting has helped me become the type of person it takes to help others. When I have to think about volunteer work, it is hard to think of what I have done because I do it so often."

Gilk's favorite memory of service work is when he helped a friend jump start her car. "She was so happy that I took the extra effort. It made me feel good inside to know I made someone's day," he said.

Gilk added, "Volunteering your time can someday pay off. It enriches one's life with gratitude to know you are helping people, the community, or church. Just seeing a smile on someone's face is payment enough for all the hard work."

An Eagle Scout, Gilk is an assistant scoutmaster and Legion Boys State delegate. As part of his Eagle Scout project, he promoted the organ donor program and encouraged people to register as organ donors.

Gilk is a member of DECA and the letter club. He competes on the basket-ball and cross country teams. He also volunteers his time for elementary basketball.

Gilk is a member of the high school choir and is a peer tutor. In the summer, he volunteers with the Early Childhood Special Education. He is a mass server at St. Agnes Catholic Church, Roscoe, and helps at Roscoe Fun Days.

Tricia Hemmesch is the daughter of Frank and Patricia Hemmesch. "I was happy to be acknowledged for my efforts. I was glad that Bridget and I could both be honored with the award," Hemmesch said.

"I feel very satisfied with myself when I see someone else benefiting from my work. I also like the relationships I've made in the process," Hemmesch said. "I'll never forget all the fun people I've met at the Diocesan Council for Youth meetings."

Hemmesch is a member of the student council, National Honor Society, speech club, letter club, danceline, and target leadership.

She can also be found working with kids in the elementary school as a Pals mentor, and as a D.A.R.E. role model. Hemmesch is a peer tutor, chaperones at middle school dances, plays softball, and is a member of the jazz, marching, and concert bands.

A member of St. Louis Catholic Church, she is a nursery worker and vacation Bible school helper. She is a seventh grade CCD teacher, serves on the Diocesan Council for Youth, is a prayer partner, and plays taps for funerals of veterans.

Bridget Mueller is the daughter of Andy and Kelly Mueller. "I was surprised to win the Lion's Service Award. It is an honor that really means a lot," Bridget said. "Volunteering is important to me because I find that while I am helping others, I am helping myself learn to see things from various perspectives. For me, volunteering has been very rewarding."

She is president of the student council, a member of the National Honor Society, target leadership, and letter club.

Mueller is the drumline captain in the high school band. She performs with the jazz, marching, and concert bands. Mueller serves as a peer tutor in the high school, is a Pals mentor, a D.A.R.E. role model, and chaperones at middle school dances.
---