Treatment aims at arterial growth around heart
This article submitted by Michael Jacobson on 3/14/01.

While healthy lifestyles are still the best way to avoid heart disease, the Paynesville Area Health Care System has a new, noninvasive method of treating blocked or narrowed arteries feeding the heart.

Blocked or narrowed arteries can lead to heart attacks, if the heart fails to get enough blood to keep pumping properly. Traditionally, in advanced cases of heart disease, medication, angioplasty, and, in severe cases, bypass surgery are used to restore the proper blood flow to the heart.

The new treatment at PAHCS is Enhanced External Counterpul-sation (EECP®). Unlike angioplasty and bypass surgery, EECP® is noninvasive and unlike medication it can provide long-lasting relief.

In angioplasty, narrowed arteries are widened with a balloon and then held open with a stint. In bypass surgery, blood flow is rerouted to avoid blocked arteries. And medication either dilates blood vessels so the heart can get more blood or reduces the heart's demand for blood, for instance, by slowing the heart rate, according to a pamphlet by Vasomedical.

Patient Elaine Pearson with the bands on her calves, thighs and hips is pictured listening to Dr. Malling about the procedure.

EECP® tries to increase blood flow to the heart by encouraging growth in the smaller arteries around the heart. Doctors can't do any procedural work in these arteries because they're too small, said Dr. Tim Malling, who will be overseeing the EECP® treatments at PAHCS.

How EECP® works
The heart is critical to the body functioning, we all know, because its beats provide all our organs and muscles with blood. But the heart itself doesn't get blood pumped to it; it gets the leftovers.

"The heart is the only part of the body that gets fed between beats," explained Dr. Malling. "Everywhere else gets blood from the heartbeat. The heart gets the backflow, what's left."

The EECP® apparatus consists of a special bed with bands for the calves, thighs, and hips. Patients are hooked to an EKG to monitor their heartbeat and to time the counterpulse.

In the half second after the heart beats, when blood should be backwashing to feed the heart, the EECP® squeezes: first the calves, then the thighs, and finally the hips. This causes a counterpulse of blood that flows to the heart.

"What we're doing is feeding the heart well," said Dr. Malling.

"It should never be painful," he added. "It may be uncomfortable."

To handle this increase in blood flow, expanded capacity in the smaller arteries should develop.

Seven weeks of treatment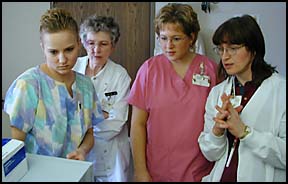 But it takes time. Each session on the EECP® lasts for an hour, and patients typically will need to have 35 treatment sessions. That's every weekday for seven weeks.
Thirty-five hours may seem like a long time, but compare it to the recovery time after bypass surgery. "That's a day and a half in the hospital after a bypass," said Dr. Malling. "Recovering from a bypass still takes a lot longer."
PAHCS staff members monitored the EECP® apparatus. Pictured (L to R): Shannon Veldkamp, Etheline Spanier, Lori Yanish, and Beth Person.
Bypass surgery still entails a hospital stay and weeks of recuperating at home.
Seven weeks of treatment is a short amount of time, if it makes her feel better, said PAHCS's first EECP® patient, Elaine Pearson, of New York Mills. Pearson started treatments on Wednesday, Feb. 28, a day after the EECP® apparatus arrived at PAHCS. Pearson, 57, has had three angiograms and two stints in the past two years, but still feels pain as she walks around her house.
The stints helped Pearson for a while, but not enough for her to resume a normal lifestyle. She wants to be able to be more active again, and said planting a garden this summer is her dream.
Pearson, patient of Dr. Tom Sult at the Integrated Health Center, is not a candidate for bypass surgery and did not meet the criteria for EECP® treatment at the Mayo Clinic. PAHCS will be using less stringent criteria to make the treatment more readily available.
Noninvasive approach
The concept behind EECP® has been around for nearly 50 years, according to Dr. Malling, but fell out of favor with the development of bypass surgery and angioplasty. Other countries, notably China, without the resources for numerous surgeries kept using the technology.
With an interest in noninvasive treatments growing in America, the treatment is coming back. "I can't believe it's not done more," said Malling.
The noninvasiveness of the procedure is also in keeping with a direction PAHCS is stressing. Now patients can have their heart condition scored through a noninvasive CT scan and treated through EECP®.
The cost of each EECP® treatment is around $150 per session, which totals over $5,000 for seven weeks, but is still less than surgery. Medicare covers the treatments, a good sign that insurance companies will follow suit, if they haven't already.
The idea to get EECP® equipment started with Dr. Sult and patient care administrator Bev Mueller proved instrumental in its acquisition, said Dr. Malling.
PAHCS is leasing the equipment for a year to see if it gets used and benefits patients. PAHCS has an option to buy the equipment if it proves beneficial.
---