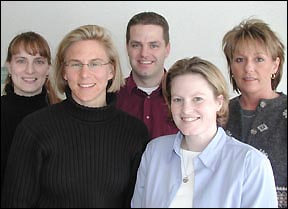 Another session of the Rural Health School has begun at the Paynesville Area Health Care System (PAHCS) to educate students in various medical fields about health care in rural facilities.

Medical students in the current session of the Rural Health School are (left to right) Melanie Monnie, Claudine Kubesh, Ben Anderson, Katie Sutter, and Kirsten Skillings.

"It's an interdisciplinary, rural, and community-based experience," explained Don Uden, a professor in the College of Pharmacy at the University of Minnesota and the interim director of the Rural Health School (RHS). "The hope is to teach the students to work together to provide care in a rural community."

While participating in RHS, students meet a holistic health panel, conduct interdisciplinary case studies, view rural health care facilities, get to use new technology geared toward rural health care, address rural health issues like farm safety and occupational safety, and do a community project.

"We believe, and actually it's been shown in many instances, that care delivered by a team can do a better job than just a single provider doing it because they can see more things," added Uden, who helped design the fellowship for Laura Odell, a Pharm.D., eight years ago that led to PAHCS's participation in the RHS starting three years ago.

"Paynesville has the best system in the state," said Uden about the interdisciplinary care at PAHCS. "It has the most mature system in the state. Hopefully the students can see that and model it when they get into practice."

For an example, Uden cited diabetes care at PAHCS, which he said was as good as any in the state, because it's provided by a team: doctors, pharmacy, nursing staff, and nutritionists.

PAHCS, which is one of seven RHS sites in the state, has benefitted from the program by being able to recruit medical professionals from the students who have spent time at PAHCS for their schooling. PAHCS has four former RHS students now working in its organization, including Todd Lemke, a Pharm.D. who is supervising this session of the RHS at PAHCS.

Students in this ten-week session are:

•Ben Anderson is a pharmacy student at the University of Minnesota and an unofficial member of the group. Anderson participated in RHS in Staples-Motley last fall. He spent nine weeks in the pharmacy department at PAHCS, starting in January. He will graduate as a Pharm.D. in May 2002.

•Claudine Kubesh is a third-year medical student at the University of Minnesota who is spending three months at PAHCS doing rotations, including ambulatory and clinical medicine. In addition to the RHS on Tuesdays, she is spending two days a week with Dr. Tom Sult. She will graduate from medical school in May 2003.

•Melanie Monnie is also a pharmacy student at the U of M doing clinical rotations at PAHCS as well as participating in the RHS. She is speding ten weeks at PAHCS and has a month left. She will also graduate in May 2002.

•Kirsten Skillings, already a registered nurse, is working on a master's degree in clinical nursing through St. Scholastica College in Duluth. She will only be at PAHCS for RHS on Tuesdays. She also works full time as a charge nurse in intensive care at the St. Cloud Hospital. She hopes to complete her master's degree by the fall of 2003.

•Katie Sutter is a third-year medical student who is spending nine months at PAHCS through the Rural Physician Associate Program (RPAP). She started at PAHCS in October and will be here until July. Her primary preceptor is Dr. Larry Strate. She is completing rotations in family practice and surgery during her time at PAHCS. She will graduate from medical school in May 2003.
---
Contact the author at paypress@lkdllink.net • Return to News Menu
Home | Marketplace | Community
---