As the country marked the sixth month anniversary of the terrorist attacks on the World Trade Center in New York City and the Pentagon in Washington, D.C., students at Paynesville Area Elementary School enjoyed getting responses from America's service men and women last week.

For Valentine's Day, the students at PAES sent cards to military personnel. Nearly 450 valentines from PAES were forwarded overseas by the National Elementary Principal's Association, which coordinated the nationwide campaign.

Last week, the school received a reply. (See letter below.) "I'm pleasantly surprised to get one back," said elementary principal Todd Burlingame. "It was nice of him to write."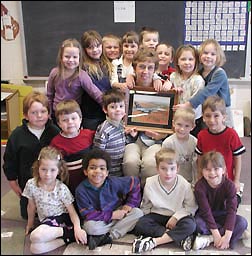 Students in Lou Louis' kindergarten classes (35 in all) wrote to the Air National Guard Base near Duluth, where Louis' future daughter-in-law, Tina Morri, has been on active duty in the Air National Guard since the end of September. Morri is in the security forces and helps guard the air base.
Mrs. Louis's afternoon kindergarten class with their photograph.
"Well, you know, we've got people who are working in our own country to make us safe," said Louis, who knows first-hand that people called to active duty are away from their jobs, families, and basically putting their lives on hold.
Last week, Louis and her students received a framed, autographed picture of a Air National Guard fighter jet. The back of the picture was also covered with signatures.
A letter accompanying the picture told Louis and her students that their valentines really made someone's day.
"Oh, the kids thought this was so neat," said Louis of receiving the picture of the jet fighter. She took a photograph of each student holding the picture, which she will send to Duluth so the military personnel can put faces to the names of their penpals.
"Now I thought maybe we should do some Easter cards for them," said Louis, "knowing it made their day and they really appreciated it. We just want them to know that what they're doing is appreciated."
To students and staff of Paynesville Area Elementary School,
I wanted to take a moment to say thank you for all of the valentines. It means a lot to us that you would take the time and effort to make and send us your appreciation and love.
It is not easy to be here, but it is things like this that make us realize why we are here. It is because of each one of you that the men and women that I serve with are proud to make the sacrifices that we do. It has been said that the cost of freedom is steep, but because of people like you I know it is worth the cost.
Thank you all for your thoughts and prayers. I am truly honored to be fighting for you.
SPC Joseph Wojtsiewicz
U.S. Army
---
Contact the author at paypress@lkdllink.net • Return to News Menu
Home | Marketplace | Community
---