Turning a whimsical story on its head, a youth theater production of The New and Unusual Adventures of Alice in Wonderland promises to take Alice to places even more peculiar than before.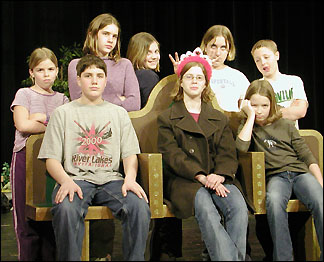 Co-directed by Colleen Pelton and Sue Teicher, over 40 students from grades one through nine make up the cast. Produced through Community Education, the play provides all of the aspiring thespians with speaking roles.
In the youth theater production of "The New and Unusual Adventures of Alice in Wonderland," the Royal Family of Hearts now includes a punk-rock daughter along with her equally rebellious friends. Performances will be held on Friday, March 14, at 7 p.m. and on Saturday, March 15, at 1:30 p.m.
Though Pelton originally wrote the play with 34 parts in mind, the unexpected response prompted her to add at least a dozen more roles to accommodate interested kids. Each role has at least two lines. "Our philosophy is that everybody gets a part," said Pelton.
In this modern adaptation, Alice returns home after her time in Wonderland and no one believes her story. After convincing her friends to accompany her, they find themselves in the middle of a struggle for Wonderland between the Queen of Hearts and a greedy newcomer, Montressa.
Along with a motley band of characters - a punk rock princess, a gaggle of lawyers, a lively deck of cards, and a cameo or two - Alice finds her new adventure just as curious, and perhaps "curiouser."
Cast of Characters
Announcer: Bailey Gray
Alice #1: Ariel Jones
Alice #2: Kaitlin Burlingame
Gwen #1: Jessica Klein
Gwen #2: Lauren Vaske
Radar #1: Jackie Berg
Radar #2: Katrina Daby
Cat: Rheanne Zimmerman
Hatter: Ginelle Zimmerman
Rabbit #1: Kellen Andersen
Rabbit #2: Anna Currens
Tweedledee: Kendra Hengel
Tweedledum: Jackie Jo Skoglund
Montressa #1: Annie Bertram
Montressa #2: Karla Leitzman
King: Zachary Schwandt
Queen: Emily Mehr
Alexandra: Taylor Haag
Leo: Hayden Spaeth
Root Beer: Tarin Beireis
Stephie: Jessica Leverington
Taffy #1: Jayna Flanders
Taffy #2: Jackie Berg
Keely: Byrna Hendrickson
Slinky: Katie Svejkovsky
Blinky: Carly Lehmkuhl
Winky: Natasha Fangmeier
Lion: Susan Voss
Tin Man: Mason Marshall
Scarecrow: Amelia Malling
Messenger: Chelsea Janssen
Workman #1: Matthew Currens
Workman #2: Luke Leverington
Guard #1: Tyler Kortlever
Guard #2: Matthew Anderson
Crankquella: Jayna Flanders
Wizard: Jared Eickhoff
Audience #1: Devon Savage
Audience #2: Susan Voss
Audience #3: Tiffany Platou
Card #1: Rachael McCloud
Card #2: Baylee Lahr
Card #3: Taylor Loesch
Card #4: Leah Wander
Card #5: Ivy Nelson
Card #6: Emma Mogard
Card #7: McKenna Evans
Card #8: Jessica Johnson
Card #9: Randi Lehman
Co-Directors: Colleen Pelton and Sue Teicher
Student Assistants: Susie Swyter, Sami Tierney, and Lindsay Pelton

Performances will be held at the PAHS auditorium on Friday, March 14, at 7 p.m. and on Saturday, March 15, at 1:30 p.m. Refreshments will be served after the play on Friday evening.
---
Contact the author at editor@paynesvillepress.com • Return to News Menu
Home | Marketplace | Community
---