Finding an old menu,
stirs memories of Frank' Cafe
This article submitted by Linda Stelling on 3/10/98.
Alice Stebbins, Paynesville, has a full scrapbook and a box full of clippings in a box still waiting to be put into a book.

Recently, she found some old menus from Frankís Cafe (Wishiní Well) where she once worked as a cook. The menus brought back a lot of memories for her as well as others who have seen them.

On the menu, for a $1.10, a diner had their pick of a roast beef dinner, chopped sirloin steak, or BBQ spare ribs. Homemade pie cost only 20 cents and a beef commercial 80 cents.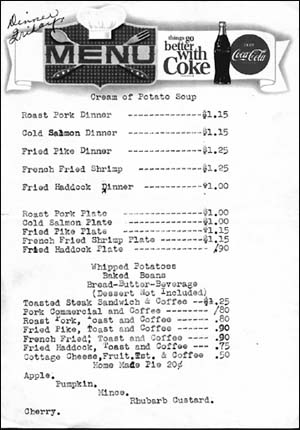 Stebbins said she worked with Frank and Frances about eight years before they retired in 1969. ďI got to know the people of the community through the cafe. Frank and Frances were the best people to work for, they were great,Ē she said.
In her collection of newspaper articles, she has a clipping from 1950 showing Frank Seifert taking coffee and donuts out to a train wreck.
Another time, Stebbins recalls Carl Wagner calling her to see if she could serve meals to stranded motorists. ďWe had to walk through snowbanks hip deep,Ē she recalls. ďI told him I would if they were patient and waited their turn as I was the only one in the cafe at the time.Ē
Stebbins said Frances stayed in an apartment above the cafe and would be there early to do all the baking before the breakfast crowd arrived. ďI used to come to work at 6 a.m. but after Frances sold out, I started coming to work at 5 a.m. to do the baking,Ē she said.
Stebbins recalls John and Elly Perron purchased the cafe from the Serferts who in turn sold the cafe to Elly Stepp. ďElly Stepp also owned a cafe in Litchfield so when she was down there, I was in charge of the kitchen here,Ē she said.
Besides putting together scrapbooks, Stebbins enjoys quilting in her spare time. At present, she is working on a double Irishman ring quilt. She said it has 1,017 pieces in the quilt. Every winter she makes a different quilt.

---