Evangelical Free Church breaks ground for new addition
This article submitted by Linda Stelling on 3/10/98.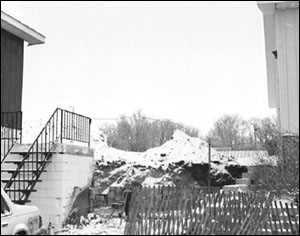 The Evangelical Free Church, Paynesville, held a ground breaking service on Sunday, March 1, to commemorate the beginning of a new building addition to their present facilities. Added will be a new 1,600 square foot foyer entrance, offices, classrooms and connecting hallways between the two existing buildings.

Representing the ďpast historyĒ during the ground breaking was Alf Everson, 93, the oldest living member; representing the ďpresentĒ was the building committee which includes Gary Klose, Curtis Hanson, Cal Anderson, Norman Everson, Llewellyn Lang and Jack Liebl; and representing the ďfutureĒ was Christopher Hanson, 7.

Ground excavating began the first week of March. This is the third time ground has been broken for building and expansion at the present location on Highway 23 and Roseville Road.

ďStarted in 1890, the congregation is 108 years old and they are grateful to God for the way that he has brought them to this point of being able to begin this building process,Ē Pastor Rick Hubert said.

---