Basics of child care are learned at babysitting clinic
This article submitted by Linda Stelling on 3/10/98.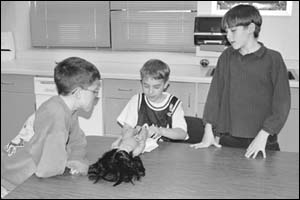 What is the proper way to pick up a six-week-old baby? What do you do if a child takes poison? What do you do if a child gets sunburned?

These questions and a lot more are being answered at a babysitting clinic sponsored by Community Ed. Mary Mackedanz, a Red Cross certified instructor, is teaching the class to 20 students age 11 and older.

Many attending the clinic are first time babysitters and others are brushing up on their skills.

Last week Paynesville Police Officer Kent Kortlever talked to the students about what they should do if a stranger came to the door. Paynesville Fire Chief Jim Freilinger talked to the students about the steps to be taken if a fire breaks out in the home.

Mackedanz encourages the future babysitters to take CPR classes as they never know when it will come in handy. She also stressed the students know the telephone number for poison control: 1-800-222-1222.

ďIf you think the child took poison, take the child and the bottle to an adult,Ē Mackedanz stressed. ďTo help counter balance the poison, have them drink milk or water.Ē

Mackedanz explained the proper way to pick up a baby and how to change its clothes or diaper. Then it was the students turn to diaper the baby (doll). For many it was the first time in trying to put on a diaper.

Throughout the class, the students would ask questions about personal situations they have encountered during their babysitting experiences or within their family.

Those who complete the class will take a test to become Red Cross Certified. Those certified may be put on a list which will be posted at area churches. Copies will also be available in the Community Education office, 320-243-7570.
---