Ron Frauenshuh Sr. retired from active law practice in mid-January after 41 years as a practicing attorney in Paynesville.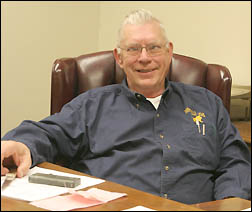 Frauenshuh grew up in St. Paul, attended Concordia Academy, served three years in the army, and then graduated from Macalester College in 1960 and from the William Mitchell College of Law in 1964.
He came to Paynesville and started his law practice in October 1964, joining the law firm of Ranier Weis. He is "forever grateful" to Weis, he said, for offering him a chance to try lawsuits and keeping his word and allowing him to do so.
"I love the courtroom," explained Frauenshuh. "That's my place. I've tried it all, but the courtroom is my place."
A boxer in his youth, Frauenshuh learned the art of combat, and he loved to argue politics in college, "If they wanted a debate, they could always get one," he said.
He compared courtroom lawyering to "mental gymnastics," thinking on your feet, making arguments and responding to courtroom developments. However, much hard work goes into the preparation, to have paperwork and motions ready for court and to anticipate what your legal opponents might do.
"It's not unusual to put in 16-hour days in the week before a trial," said Frauenshuh.
During his tenure as a city attorney, Frauenshuh handled 300 criminal cases, but his major work has been devoted to civil liability, contracts, personal injury, product liability, and some divorces. He has tried many cases before the appeals court and before the Minnesota Supreme Court.
"Being an advocate is always fun," he said. "It is the little guy taking on the big guy most of the time."
The best part of his years in law practice has been his clients, he said.
Trial law, he said, is a younger man's business because of the work involved, and he cut back two or three years ago.
Frauenshuh, who has been in partnership with Bill Spooner for the past 25 years, served as the city attorney for Paynesville for over 30 years. He also served as city attorney for Brooten (12 years), for Eden Valley (25 years), for Elrosa, for Greenwald, for Lake Henry, for Meire Grove, and for Roscoe.
Serving as city attorney allowed him a chance to watch the growth of these cities. In Paynesville, for instance, lots of infrastructure has been added since Frauenshuh arrived, including the Industrial Park, the city lagoons, and major street projects. In 1964, when he came to town, said Frauenshuh, the only sidewalks in town were in the downtown area; now pedestrians have sidewalks throughout the city.
As city attorney, Frauenshuh also dealt with the city hospital, now the Paynesville Area Health Care System, and fondly recalls major expansions like the hospital renovations in 1983, the addition of 700 Stearns Place in 1987, and the formation of the hospital district.
In 1991 and 1992, Frauenshuh estimated he attended 40 to 60 meetings with hospital administrator Willie LaCroix to explain the hospital district to local cities and townships. There were two reasons, he said: (1) to establish a solid base of users for the hospital; and (2) to have a larger borrowing base.
The hospital district began and took ownership of the Paynesville Area Health Care System in October 1992. It now contains seven local cities and five local townships.
Frauenshuh has also been active in civic organizations. He was one of the founding members of the local Jaycees and has been active in Lions Club, the United Way, and Republican politics. In 1981-82, he served as Lions district governor (overseeing 50 clubs), and in 1982-83 he served as council chairman (overseeing 500 clubs).
He said he has no specific plans for retirement. He does like to do a little fishing, he's learning to golf, and he enjoys service work. He and wife Phyllis have three grown children: Ron Jr., an attorney ; Sharon, a nurse practitioner; and Colleen, a computer scientist and now a mother of four and homemaker.
He will keep his law license and maybe will do some civic work, perhaps with the elderly. "There's still a little fire in the soul," he said.
"My vocation was my advocation. I love what I did," he added. "It's been a very active life."
---
Contact the author at editor@paynesvillepress.com • Return to News Menu
Home | Marketplace | Community
---