Senior Kayla Nelson was the sole nominee for Paynesville Area High School this year for the Academics, Arts, and Athletics (AAA) Award.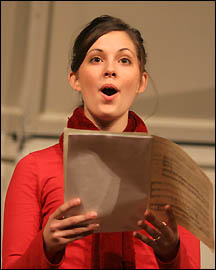 The AAA Award, sponsored by the Minnesota State High School League, recognizes well-rounded individuals who excel in all three areas. Schools can nominate one senior girl and one senior boy for district competition with winners then advancing to regions and state.
Each year, PAHS teachers and coaches select local nominees for the AAA competition. This year, Nelson was the sole nominee for PAHS, since no senior boys participate in all three areas.
Nelson found out about her nomination around Christmas. She said it was an honor to be selected among her deserving peers at PAHS.
The District 20 banquet was held in Paynesville in early January. The winners were Brian Pieh and Brook Sieben of New London-Spicer.
Each nominee writes an essay about how academics, arts, and athletics have prepared them for life. And they give a short talk on this topic at the banquet.
Nelson said her essay explained how academics, arts, and athletics have made her a well-rounded person. Acadmics, she explained, are obviously needed in life. And she appreciated having the chance to participate in sports - volleyball and gymnastics - while in high school.
Music, said Nelson, who wants to sing in a choir in college, is a valuable lifelong skill. Singing, in particular, she said, "is something that you can do wherever you go."
The daughter of David and Diane Nelson, Nelson is an honor student and a member of the National Honor Soceity at PAHS. She is also president of Students Against Destructive Decisions (SADD), editor of the school paper, a library aide, and a volunteer at school and at Paynesville Lutheran Church.
Through her church, she is also president of the Southwest Synod Lutheran Youth Organization.
She plays flute in the PAHS band and sings soprano both in the PAHS Mixed Choir and in the PAHS Treble Pops Choir. Last year, the PAHS Treble Pops Choir, including Nelson, earned "Best of Site" honors at the choral contest.
Nelson plans to attend college next year but is undecided about where she will go and what she will study. She plans to sing in a choir at college.
---
Contact the author at editor@paynesvillepress.com • Return to News Menu
Home | Marketplace | Community
---