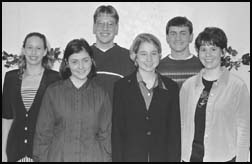 Lang selected for United Nations trip
This article submitted by Michael Jacobson on 3/10/99.
The Paynesville Odd Fellows and Rebekahs held a dinner on Tuesday, March 3, to recognize their United Nations delegates from 1998 and to choose one for 1999.

Ryan Lang, Stephanie Hoeft, and Scott Ingalsbe competed in the local lodge contest. First they wrote an essay about the United Nations, and then they gave a short speech to the lodge and interviewed with the out-of-town judges Tuesday night.

Lang is the son of Keith and Paula Lang, Stephanie is the daughter of Jerry and Melody Hoeft, and Scott is the son of Dave and Barb Ingalsbe.

Junior Ryan Lang was chosen to represent the local Odd Fellows and Rebekahs on the 1999 United Nations Youth Pilgrimage.

Sophomores Hoeft and Scott were unable to physically compete at the jurisdictional level on Sunday, March 7. Both did submit their essays. At press time, the results of the jurisdictional competition was not known.

The pilgrimage to New York City will last about ten days. Lang will leave in late June and will travel over the Fourth of July.

The trip allows students to get a behind-the-scenes look at the United Nations and to tour New York City. The tour includes landmarks like the Empire State Building and the Statue of Liberty and the opportunity to see a Broadway play.

Delegates will make new friends from across the country and the globe and may be inspired to form a more global outlook.

The tours started in 1949, making this year the 50th anniversary. Since its inception, the Odd Fellows and Rebekahs have sponsored over 35,000 students on the tour.

Also Tuesday night, the 1998 delegates briefed the lodge on their experience. Erin Aagesen, the local winner, Amber Ingalsbe, and Anne Janotta recalled lessons and memories from their trip last summer.
---