Failing to stop for school buses is a crime
This article submitted by Linda Stelling on 3/10/99.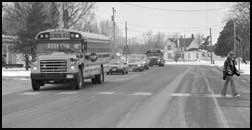 Every day, thousands of school buses are on the road to pick up children in time for another day of school.

The school buses don't have the roads to themselves, but share the roads with people heading to work each day.

To some of these people, stopping for a school bus is an inconvenience when they are running behind schedule.

Every day, school bus drivers are on the alert for drivers who don't stop for the flashing lights and arm signal of a school bus.

According to the law, all drivers are required to stop for school buses when their lights are flashing and the stop arm is extended.

"The school bus drivers always have this fear that a motorist won't stop and that a child will be injured or killed," Phyllis Nielsen, owner of Paynesville Motor and Transfer, said

"If a driver suspects a motorist won't stop for the flashing lights, they will keep the students on the bus until the vehicle has passed," Nielsen said.

School buses are equipped with a system of flashing amber and red lights. The purpose of the flashing amber lights is to warn motorists the bus is preparing to stop. The red flashing lights indicate to other drivers the school bus is stopped and in the process of loading or unloading students.

According to Minnesota Department of Public Safety regulations, a driver of a school bus shall activate the amber signals for a distance of at least 100 feet before stopping in a 35 mph speed zone and at least 300 feet before stopping in a faster speed zone.

The stop signal arm is used in conjunction with the flashing red lights when stopped on a street or highway to load or unload children.

Minnesota law requires all motorists to stop for flashing red lights and an extended stop arm on school buses.

The school bus driver must remember that the safety of the student is first. The bus driver must check all traffic in the area before opening the doors and letting the students cross the roadway.

During the crossing/loading and unloading procedure, the driver must be alert for any motorist that fails to observe the flashing red lights on the stopped bus in order to alert the students.

Then, if time permits, the bus driver observe the basic vehicle, color, and license number. This much will allow prosecution of the owner. Gathering information for prosecution is secondary to the safety of the students.

Nielsen said many violations go unreported because the bus drivers can't get the license number fast enough.

She added that students have been helpful in writing down numbers or descriptions of vehicles when they notice the violation.

In other instances, motorists who witnessed the violation have called and ask if we want the number. "These instances have been very helpful," Nielsen said.

Nielsen said when a violation occurs, a bus driver tries to write down the license number, color of car, direction traveling, whether it is a male or female driver, and the approximate age of the driver.

The bus drivers agree that their worst area for violations is Highway 23 near the Grace United Methodist Church. "It seems when we are stopping in town, drivers don't pay attention and drive around us," Marlene Theel, bus driver, said.

"In one instance, when a car drove around us, there was an unmarked highway patrol behind that person. They were instantly stopped," Theel added.

"People don't realize they have to stop, it doesn't make any difference which direction they are traveling. When they see a school bus with their lights flashing, they should stop," Theel stressed.

Tony Schmitt, Paynesville Police Chief, said there has been a rash of violations lately. Last year, there were between 10 and 15 violations reported.

Schmitt explained there are two types of violations, a misdemeanor and gross misdemeanor. A misdemeanor is when the student is still on the bus. It carries maximum penalty of $700, 90 days in jail or both.

A gross misdemeanor occurs once the student leaves the bus. A gross misdemeanor carries a fine of $3,000 maximum, or a year in jail or both.

"A good rule of thumb for all drivers is that when they see the amber lights flashing, they should plan on stopping. When the lights are flashing, it means the stop arm will be coming out shortly," Schmitt said.



---