Robin Hood being presented his weekend
This article submitted by Linda Stelling on 3/10/99.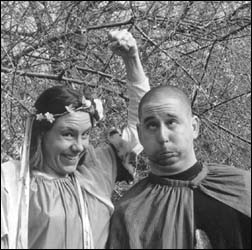 The Prairie Fire Children's Theatre production of "Robin Hood" will be presented on Friday, March 12, at 7:30 p.m., and at 1:30 p.m. on Saturday, March 13, at the Paynesville Area Elementary School auditorium.

Auditions were held March 8 in search of 60 students who will fill the various parts. Cast of characters include: Robin Hood, Maid Marian, gnomes, gnome king, Little John, sheriff's daughters, sheriff's deputies, Maid Marian's tutors, Friar Tuck, Will Scarlet, and Prince John.

Steve Orlan, Prairie Fire Theatre actor, will portray the Sheriff of Nottingham and Krista Clements will be Flora Queen of the Faeries. The two will work with the Paynesville students all week teaching them their lines and songs for the production.

Tickets for the performance are $3 for adults and $1 for students; preschool youngsters are free.

---